Carnival Alaska Cruise
Information about Carnival Cruises to Alaska
Carnival Cruise Line has three Carnival Alaska Cruise options on their 'Fun Ships' leaving from either Seattle, WA or Vancouver, BC all aboard the beautiful Carnival Spirit cruise ship, with a passenger capacity of approximately 2,000.
**Note: Beginning in 2013, the ship visiting Alaska changed to the Carnival Miracle!**
Carnival Cruise to Alaska options
The Carnival Miracle will make 20 trips to Alaska during the Cruise Season, beginning in early May and ending in mid-September. Your three options for a Carnival Alaska cruise are:
The cruise available during the majority of the Alaska Cruise season is the 7 day Alaska tour which begins in Seattle, cruises through the Tracy Arm Fjord, and stops in Skagway, Juneau, Ketchikan, Victoria, BC, Canada, and ends in Seattle. You will get only 4 short hours (7am - 1pm) in Ketchikan on this cruise and, trust me, you'll want more! This cruise begins on Tuesday and ends the following Tuesday.


The very first Carnival Alaska Cruise in late April is the 8 Day Glacier Bay cruise that begins in Vancouver, BC, Canada cruises the Inside Passage, visits Glacier Bay, and makes stops in Juneau, Skagway, Ketchikan, and ends in Seattle, WA. This option will score you 9 whole hours in Ketchikan! This cruise begins on Monday and ends on Tuesday.


The very last Carnival Alaska Cruise of the season is in mid-September and is the 7 day Glacier Bay Tour that begins in Seattle and makes stops in Juneau, Skagway, Glacier Bay, Ketchikan, & ends in Vancouver, BC, Canada. This cruise begins and ends on Tuesday and will allow you to explore Ketchikan for 8 hours!
My husband and I took a cruise on Carnival Spirit, in fact it was our very first cruise ever, and we loved it.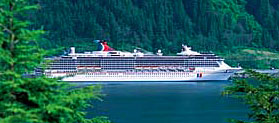 The ship was beautiful, the entertainment incredible, there were plenty of activities to keep us busy, and the food and staff were excellent! It was the perfect experience for our first cruise.
Carnival Cruise Line is considered a budget cruise line and is often the least expensive option for Alaskan cruises.
Prices for a 7 day Carnival Alaska cruise begin at around $600/person and go up from there depending on the type of room you choose and the month you visit.
They often run e-mail only specials that are offered to those who have signed up for their e-mail newsletter. They only send out weekly or monthly e-mails so your e-mail inbox will not be overrun with messages. You can sign up for their e-mail newsletter by visiting their website. Also be sure to check the current promotions page!
For great ways to save money during your cruise, check out the
Ultimate Cruise Discount Guide! You'll be amazed at all of the ways to save on your Celebrity Alaska Cruise!
Click here to view Carnival's Alaska eBrochure which is way cool!
If you would like one-on-one help making your decision, call 1-800-CARNIVAL to speak to a customer representative.
Although a cruise with Carnival Cruise Lines is just one option when taking an Alaskan Cruise, it is one of the least expensive cruises available. You can't go wrong with a Carnival Cruise to Alaska!
Check out this amazing video!
---
Visitors to the Alaska Cruises by Carnival page may also be interested in the following pages:
Alaska Cruise Ship Calendars - Location and number of Cruise Ships in town
Alaska Cruises from Seattle - Cruise Ships departing Seattle for Alaska
Ketchikan Weather - What to expect during your visit!