A Celebrity Alaska Cruise
Gives you many options for an Alaskan Cruise

If you're looking to take a Celebrity Alaska Cruise, you have several options to choose from as they visit Ketchikan over 50 times on 3 different cruise ships - the Millennium, Century, or Infinity Cruise Ships. **Note: Beginning in 2013, the Infinity Cruise Ship has been replaced by the Solstice Cruise
Ship - voted "Best Cruise Ships" by Frommer's 2011**
Choose from a 7 or 11 day Celebrity Alaska cruise leaving from either Seattle, Vancouver, BC, or Seward, AK beginning in early May through late September. And although you have a wide variety of ports of call to choose from among your choices, all options make a stop in Ketchikan Alaska where you will be rewarded with 6 to 11 hours in town!
Celebrity Millennium
The Celebrity Millennium offers world-class restaurants, Broadway-style shows, and a luxurious spa, and holds 2,034 passengers. The Celebrity Millennium cruise ship visits Ketchikan almost 20 times as well and offers the following cruise options:
The itineraries offered most of the season are:
This itinerary is offered in Mid-May only:
Take a Celebrity Alaska Cruise aboard the Celebrity Millennium
Celebrity Solstice
Beginning in 2013, travel aboard the Celebrity Solstice, which makes almost 20 visits to Ketchikan and offers the following itinerary:
This cruise begins and ends in Seattle, WA. The Celebrity Solstice cruise ship is the largest Celebrity ship ever launched with gorgeous architecture! It is an easy ship to navigate, even for first-time cruisers. It can hold 2,850 passengers, has expansive staterooms, 3 specialty restaurants and an amazing spa.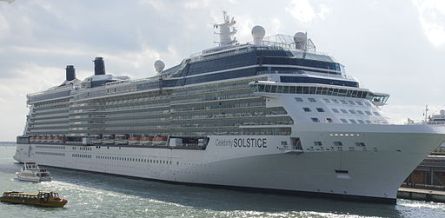 The Solstice Cruise ship on a Celebrity Alaska cruise
Celebrity Century
And finally, last but certainly not least, the Celebrity Century. The Celebrity Century is the oldest in their fleet of Cruise Ships coming into Alaska, being built in 1995.
But the Celebrity Century Cruise Ship has the least amount of passengers with only a capacity of 1,814. All food, drink, activities, & entertainment is in the style of the 'South Pacific' theme and it has lovely open spaces and soaring atriums.
There are two options for cruises on the Celebrity Century. The itinerary offered the majority of the season is:
Also offered only in Mid-September only is the:
11 Night Ultimate Alaska Cruise also to & from Vancouver. Ports of call include Sitka, Icy Strait Point, Skagway, Juneau, Ketchikan, Prince Rupert, & Victoria, BC.
The Celebrity Century
For great ways to save money during your cruise, check out the
Ultimate Cruise Discount Guide! You'll be amazed at all of the ways to save on your Celebrity Alaska Cruise!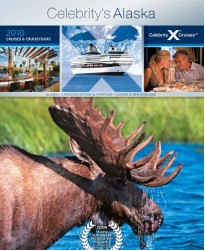 Celebrity Cruise line has a great eBrochure available detailing all of the options available - click on the photo to the right to view the brochure.
Prices for a 7 day cruise begin at around $800/person and go up from there.
Remember to check out their Specials and don't forget to sign up to their newsletter for last-minute specials! I've seen e-mail campaigns of 40% off specials!
Sea & Stay packages are also available which extend your vacation before or after your cruise. Choose from packages in Los Angeles, San Diego, Vancouver, Seattle, & Seward.
As you can see, your options are almost endless if you wish to take a Celebrity Alaska Cruise. I haven't personally been on a Celebrity Alaskan cruise but have heard wonderful things about the cruise line and it scores high among passenger satisfaction. Enjoy!
---
Visitors to the Celebrity Alaska Cruise page may also be interested in the following pages:
Alaska Cruise Ship Calendars - Location and number of Cruise Ships in town
Alaska Cruises from Seattle - Cruise Ships departing Seattle for Alaska
Ketchikan Weather - What to expect during your visit!