What to pack for your trip to Ketchikan Alaska!
An Alaska Cruise Packing List
Ketchikan Alaska is a wonderful place to visit and I am often asked about what to pack for your visit! The best advice I can give you is to bring options with you!! This is one vacation where you won't go wrong bringing more than less.
Packing for an Alaska Cruise is easy!
Deciding what to pack for your Alaska Cruise is a very important item! I can't tell you how many times I have seen folks flock to the stores right alongside the cruise ships buying umbrellas, raincoats, or jackets as they have expected dry days with temps in the 60's! But Alaska cruise packing is simple by following these few guidelines.
Dress in layers! Begin with a lightweight short sleeved shirt (your comfort layer), add a hoodie (hooded sweatshirt), cardigan sweater or fleece sweater (your warmth layer), add to that an all-weather coat (your protection layer), & scarf if it is warranted. If you get hot, simply shed enough clothes to make yourself comfortable. (see below for the backpack to carry it in!)



Most importantly, bring an all-weather jacket, preferably with a hood. I recommend a waterproof, breathable jacket rather than just a nylon windbreaker, especially if you plan to do a lot of outdoor stuff. Sometimes the wind kicks up across the ocean and even though it is sunny & warm, the cold wind will go right through you. The jacket doesn't have to be heavy & lined, if you layer correctly, you'll take care of the warmth, this will simply keep you dry! Brands you'll find in my closet are Patagonia, (my favorite - well made & moderately priced), Columbia, Marmot, & when I can afford it (lol!), North Face or Arc'teryx (why not go for the good stuff!). :-)



If you choose to ignore this what to pack list and forgo the waterproof jacket, bring a disposable poncho in your purse or bag. They make them extremely small & light and believe me you'll spend a lot less money if you bring your own rather than purchasing one in town. If you want something a little bit better than a poncho and a little less than a full blown jacket, look for a super lightweight waterproof jacket like this one, named one of the best travel products of 2012! You'll be tempted to bring an umbrella - just realize the umbrella will only work on rainy days with no wind - if there is any wind at all don't use it! It will only frustrate you & eventually break.


Wear closed toe shoes (for warmth). Comfortable ones!! A good walking or hiking shoe is perfect. I don't recommend purchasing rain boots (although they are cute!) as they'll be too big & clunky for your luggage, but if you water-proof your shoes you'll be a happier walker if it's raining! I've been hiking and have witnessed folks who are getting their dress shoes filthy as they are hiking on a muddy trail. Save your dress shoes for the Cruise Ship. You don't want to ruin your vacation because of wet, cold feet! I have always preferred Merrell's waterproof hiking shoes, they fit well, keep my feet nice & dry, and are plain comfortable! Here's an extra tip: Bring a 2nd pair of shoes just in case the first pair gets wet.




Long pants - You won't need to go out of your way looking for specific Alaska Cruise Wear, simply bring along a pair of Jeans or heavy long pants that you'll be able to wear on long excursions. Jeans are perfect as they are usually nice and warm. If it's warm enough, another of my favorite articles of clothing is my convertible pants that can be converted to shorts and, if they get wet, dry quickly! You'll fall in love with these.


Extras, as needed: Don't forget to put heavy socks, a long sleeved shirt, a short sleeved shirt, and if you're so inclined – gloves, hat, & a scarf on your what to pack list. This waterproof baseball cap is one of my favorites! (LOVE this!)


Bring binoculars! In fact, bring two pairs- there's nothing more frustrating than being engrossed in watching something when your partner elbows you in the ribs to get a turn! This isn't for the weather, but Ketchikan has some of the most amazing wildlife and binoculars make it easier to zoom in on them! You'll find a pair of Bushnell H20 Waterproof (& fogproof!) Binoculars in my glovebox, they are the best binoculars I have ever owned!


Polarized Sunglasses. You will spend a lot of time looking at or around the water. Polarized sunglasses cut the glare on the water and allow you to see colors much clearer. Believe me when I tell you, spending the extra money on a good pair of Polarized sunglasses will reward you with better views & less stressed eyes! I often hand my pair of polarized sunglasses to tourists looking into the water to watch the salmon and they are simply AMAZED at the difference! I have had several pairs of Maui Jim Sunglasses that, while an investment, are still the best sunglasses I have ever owned!


A lightweight, foldable backpack. Remember those layers you will shed during the day? And soooo much more, you will use this backpack. Keep your wallet, room card, sunglasses, camera, purchases along the way, etc. inside and keep your hands free! This backpack is excellent! It folds up into a tiny little cube so it doesn't take a ton of room in your luggage but once you start using it, you'll LOVE it!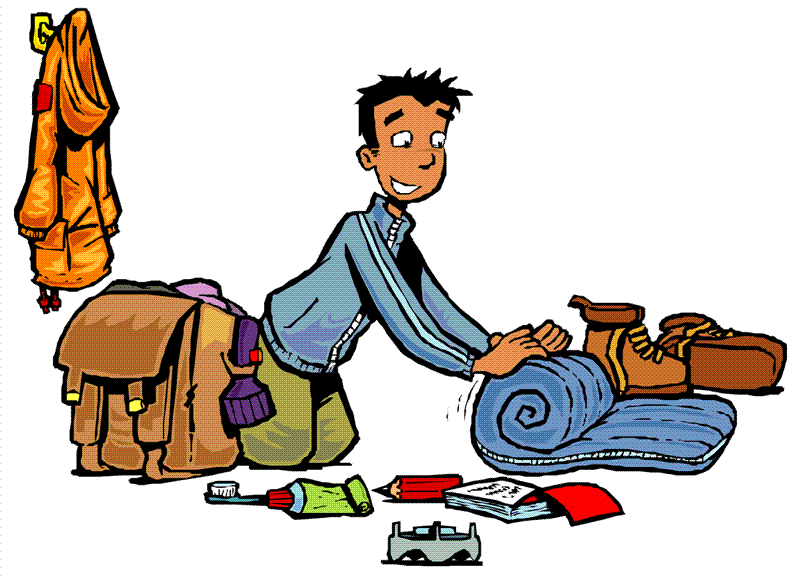 Tips on what to pack
I know this sounds odd, but when you arrive in town, poke your head out the window & listen to the announcement on the loudspeaker. Ketchikan weather can vary greatly from day to day. One day will be sunny & warm – t-shirt & shorts weather, the next day will be pouring rain and it won't be fun to be outside. You can look at the 'average' temps, 'average' rainfall, and have an idea of what to pack...but until you get here, it is difficult to predict.
Now also don't make the other mistake - assuming Alaska means it's igloos and ice with freezing temperatures every day. I've seen people get off of the Cruise Ship gangways dressed for winter – furs hanging off of their shoulders, hats, gloves, the works…..and it will be a sunny day with temps in the 80's! They definitely didn't know what to pack! On the other hand, I've also been on tours with folks who complain about the warmth because they expected rain & cold weather and dressed too warmly and simply can't get comfortable.
As you can see, deciding what to pack is important when visiting Ketchikan! So, again, my recommendation is to dress in layers! And have fun with your Alaska Cruise packing!
p.s. - I'm sure you can see what my favorite shopping site is! That is because for us living in Alaska, free shipping is unheard of! And through Amazon Prime, they offer free shipping! If you're in the lower 48, most of the time they guarantee 3 day shipping! It's a super deal for me and although I don't receive the product within the 3 days, who cares if shipping is free!!! I hear from folks in the lower 48 and they say they can even get same-day shipping. Wow! Personally, I LOVE Amazon Prime! If you're not a member, they have a "try it free" deal that I recommend!
---
Visitors to the What to Pack page may also be interested in the following pages:
Ketchikan Weather - What to expect during your visit
Ketchikan Webcam - Live views of the Ketchikan area
Ketchikan Walking Tour Map - Walking Tour Map of Ketchikan