- About Us -
Get to know the authors of this site!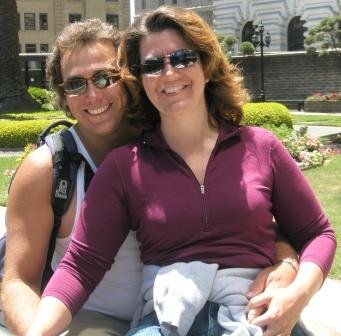 Welcome to the Experience Ketchikan website!
My name is Rene and I am the author & builder of this site and my husband, Michael, is the cheering section, bouncer-off-er, listener, encourager, and occasional disagree-er. haha!
We live and work in Ketchikan Alaska during the summer and spend the rest of our time on our sailboat cruising the gold coast of Mexico.
Our sailboat is named Ahea Kali, which is hawaiian for 'Why Wait' - exactly how we feel life should be lived! We don't want to wait to explore & enjoy the amazing world we live in!
We first began our Ketchikan Alaska adventure by deciding one day to "Go somewhere we had never been and do something we have never done!" We decided on Alaska (a place we had never been), and ultimately ended up with seasonal employment in Ketchikan that has continued year after year.
Our first job was working as tour guides (something we had never done!) and we needed to be fully versed in everything! And not only about Ketchikan, but Alaska in general! Before we arrived in town I spent hours scouring the internet for information about Ketchikan but wasn't able to find the specific information I was searching for!
When we arrived in Ketchikan, AK, we devoured any information we were given, always seeking to know more. We spent hours in the library, days and days talking to locals and Natives alike, soaking up the information like sponges. And then we shared this knowledge with the clients on our tours. To say we love Ketchikan is a bit of an understatement!
We LOVE sharing our love of Ketchikan!
Which is exactly why we decided to start this website! We want to share our experiences, provide information & give our opinions on everything related to Ketchikan Alaska. We're striving for a been-there-done-that feel because what we're writing about is exactly that! Everything we write about we have personally experienced (well, except for a Cruise aboard every cruise line!)
The Experience Ketchikan website was launched in 2009, but really worked on starting in December 2010. It's a very young site and I am working hard to make the website a great resource of interesting facts about Ketchikan. I will be adding more content just as fast as my fingers will type and my schedule will allow!
You, the valued reader, can help me to achieve this goal. How? Simply use the Contact Us page to tell me what you think! Do you need a particular piece of information? Would you like more details on something? Do you agree or disagree with my recommendations? Let me know!
Or, even better, submit your own content on the site! You'll find invitations scatted throughout the site to rate restaurants, tours & excursions, attractions, submit your best fishing story, share photos of your vacation, rate your Alaska Cruise, and more. I look forward to hearing from you soon!
I've said it before but Ketchikan Alaska and the residents here are simply amazing. The area is gorgeous, filled with tons of recreation opportunities, magnificent views, incredible wildlife, indescribable experiences, and 'good' open & warm people. We have loved every minute living and working here, love the history & rich culture, have made life-long friendships, & have fond memories that continue year after year. We're often asked "How can you deal with all that rain?", but once you experience what makes this town so special, you'll understand. We're proud to call Ketchikan home!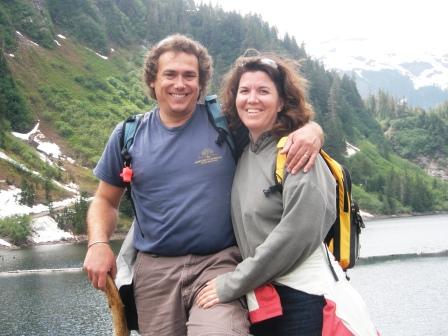 Michael and I on a hike to Silvis Lake - gorgeous!
Enough about us....
What valuable information do YOU have to share?
I would have never, in a million years, have imagined myself authoring a website. Although I grew up around computers and have a good base knowledge, I had absolutely no skills at website design, didn't believe I could write properly, and had no clue how to 'write' a good website!
But a dear friend of mine, another 'cruiser' who spends 6 months a year on her sailboat, peaked my interest when she explained how she is able to earn a living writing about something she loves! She turned me onto SBI, which stands for Site Build It!
SBI helps you to turn any hobby, passion or skill into a viable online business. You probably don't even realize that almost any topic can make money with a website.
You need no programming skills or webdesign knowledge, no business and no product to sell. Just bring your brain and motivation! SBI has all the tools you need, and they take you by the hand and teach you step by step how to use everything.
They help you find the perfect topic for your site, to build it, to get traffic to it, and then they even teach you how to make money with it, no matter what it is about!
Take a moment to check out this Video Tour to get an idea of how it works and what is involved.
I started this website in December 2010 and in February 2011 it started to earn money. These results only further encourage me to continue writing about something I love!
Now if you're looking for a get rich quick scheme - do a little, earn a lot, this is not it!! It takes work - a lot of it - especially in the beginning. The cool thing though is that you can do it in your spare time. YOU set the pace.
How do I make money? At the moment mostly with advertising. You probably saw the links throughout the site that say "Ads by Google". Every time someone is interested and clicks on one I make money.
And there are countless other ways to make money with a website - create your own e-goods to sell, sell other people's products for a commission, get paid for leads and referrals and more. SBI shows you how to do all that and more!
So...what are you waiting for? Stop working for someone else, start working on building a business for YOU! Believe me, if I can do this, so can you!
And...it's totally risk free. SBI has a full money back guarantee. They're happy for you to try it out to see how you like it.
Enjoy!