Explore the Southeast Alaska Discovery Center in Ketchikan Alaska
A visit to the Southeast Alaska Discovery Center should be on your list of things to do in Ketchikan!  The Discovery Center has world-class exhibits, is an Alaska Public Lands Information Center providing expert information on most anything, and is a perfect place to spend time during your visit to Ketchikan (especially if it is pouring outside)! 
The perfect place to relax, learn, and enjoy a bit about the natural and cultural wonders of Southeast Alaska - AND stay dry!

I will never forget my first visit to the Southeast Alaska Discovery Center.  I had just moved to Ketchikan and was looking for information about the area.  I was just hired to be a tour guide and needed to learn everything I could about the area.  Asking around on where the best place to get this information, everyone told me to try there first. As I walked up to the building, I was struck by how gorgeous it was on the outside.  But that was nothing compared to what I found inside.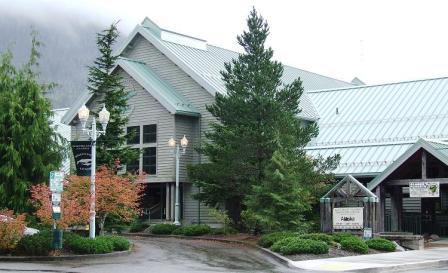 Walking through the front doors, I was immediately impressed with the three Totem Poles standing in the lobby.  Each pole represents a different clan crest from the three tribes in Southeast Alaska: the Haida, Tlingit, & Tsimshian.  The poles were specifically
commissioned for the building and are hollow in the back to prevent the pole from cracking due to the dry indoor air.  It is amazing to see these poles up close and to see both the similarities & differences between the three tribes.  And it makes a great photo spot!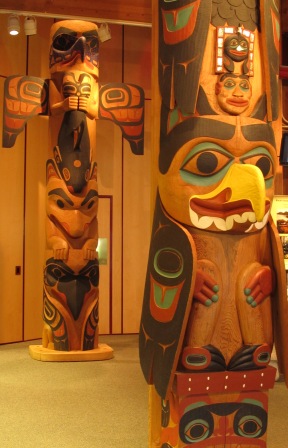 I paid my $5 admission for adults, children 15 & younger are free, and wandered through the incredible exhibits.  By the way, if you are a National Park Service "America the Beautiful Pass" holder, bring it with you! It gets you and three others in for free!  Also, admission from October to April is no charge.  What a deal!  There are not many places to visit in Ketchikan that can be done so inexpensively.  Oh, and as of 2018, your $5 admission includes 1 hour of free wi-fi!
Their Operating Hours during the summer (May - September) are 8:00am to 4:00pm every day.  During the winter (October - April) they are open 10:00-4:00 on Thursday, Friday, & Saturday.

Chatting with the friendly & incredibly knowledgeable folks manning the information desk, I was given a scavenger hunt form for little ones which make the visit so much fun for them!  They had different forms for different ages and I got a kick out of searching for items in each section of the center.







Four areas to explore inside the Southeast Alaska Discovery Center
---

Alaska's Rainforest is an exhibit with all of the trees, shrubs, & animals you will see when walking through the real rainforest. It is incredibly life-like, the only thing missing is rain!


Next is the Native Traditions area where you can listen to Native Elders tell stories of their life.  The hand carved canoe, baskets, and scenes of a fish camp are incredibly impressive.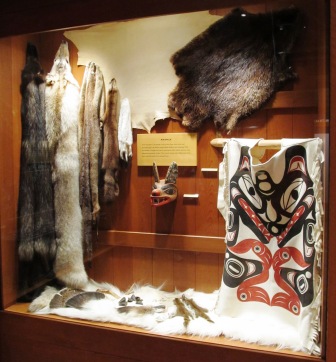 Then comes the fun part, the interactive exhibits!  There are lots of buttons & levers that make learning fun not only for the little ones but for the adults as well (the big kids!)  First up, the Ecosystems area is where we learned all about the seven ecosystems that exist in Southeast Alaska and also all about the wildlife & sea creatures in the area.  There is even a spotting scope to look for wildlife!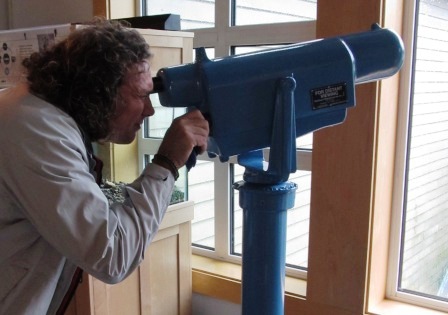 And finally, the Natural Resources area which is also an interactive area with lots of buttons & moving parts - and is my personal favorite area.  Here I learned all about the history of fishing, mining, timber, recreation, & tourism - all incredibly important to our area.  This area is packed full of items to look for, stories to listen to, & buttons to push searching for gold.  I could spend hours in this area alone looking at all of the items here!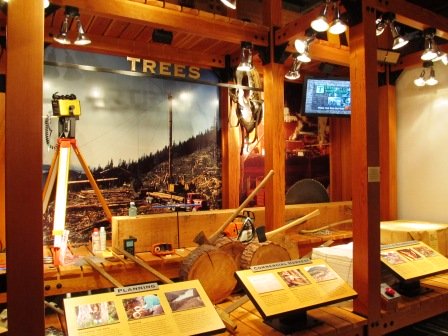 But that's just the beginning!

Be sure not to miss the movie "Mystical Southeast Alaska" that is shown periodically during the day in a gorgeous 150 person theater, 32 foot screen.  The movie is amazing - not only the scenes but also the music.

Update: Sadly, the Alaska Geographic Association bookstore has closed (though you can still purchase items online).  The closest bookstore in downtown Ketchikan is 
Parnassus Books, located just up the street from the Southeast Alaska Discovery Center.

Last, and certainly not least, the Southeast Alaska Discovery Center is one of the best places to go for information on things to do in Ketchikan.  Stop by the desk for literature on cabins, campgrounds, trails, kayaking, wildlife, botany, fishing, hunting and more!  There is also an area you can browse through videos, books, & maps for all of Alaska.  The Southeast Alaska Discovery Center is one of four Alaska Public Lands Information Centers which is a collaboration of 8 agencies including the Forest Service, National Park Service, Fish & Wildlife, Bureau of Land Management, and more.


There are a couple Ketchikan Tours that go to the Southeast Alaska Discovery
Center, you can simply walk there, or take the Free Downtown Salmon Run Shuttle directly there.  It is conveniently located at the corner of Mill and Main Street, just one short block from the Ketchikan Visitor Bureau and Cruise Ship Berths 1 & 2 and a short walk from Berths 3 & 4.  Check out the Downtown Ketchikan Map for a better idea of the distance from the Cruise Ship Docks.  It is about 2 miles from the Ferry Docks.

If you're looking for things to do in Ketchikan, The Southeast Alaska Discovery Center is definitely one of the best discount attractions if you're choosing to forgo any cruise excursions.  There is so much to see & do inside and is a perfect place to learn all
about Southeast Alaska.  It is also a perfect place to go with little ones during those rainy days as there are lots to keep them busy!

---
More Ketchikan Information...
---