Ketchikan Alaska Car Rental
Get off the beaten path and tour Ketchikan Alaska in your own vehicle!

A Ketchikan Alaska Car Rental is great as it allows you to explore Ketchikan at your own pace! Don't get stuck on a tour with a busload of other people – rent a car and check out the Ketchikan Alaska attractions at your own speed! Ketchikan has both traditional and unique car rental options - there is a Ketchikan Car Rental for you!
Traditional Ketchikan Car Rental Options



All of the Car Rentals in Alaska have the 'standard' car rental options available. All sizes of cars, vans, SUV's, & 4wd vehicles are available at the following Ketchikan Car Rental companies:
Unique Ketchikan Alaska Car Rental options!


Make your Ketchikan Alaska experience a memory by renting a vehicle like this!
Electric Car Rentals
These cute little Electric Cars have been zipping along Ketchikan for a couple years and provide the perfect alternative for smaller groups. Seating is limited to 4 but these little cars are great for those with limited mobility! The vehicles are completely enclosed so no worries with getting wet on those rainy & misty days. The cars go 25 miles an hour and because of that, are limited to the downtown city streets (where the speed limit is 20mph) but they are the perfect way to see all of the downtown sights.
The electric cars rent for $50/hr and can seat up to 4 people. The Electric cars are rented on a first-come-first-served basis when you arrive in town, or you may make a reservation with a 1 hour non-refundable deposit by calling (907) 225-2277 or sending an e-mail to therainbarrel@gmail.com.
The Ketchikan Electric Cars are rented from The Rain Barrel which is located in front of the Ketchikan Lumberjack Show on Spruce Mill Way.
---
Private Hummer
Or....rent a Hummer H2, which includes a driver & guide, for your exclusive tour through Ketchikan Alaska. While you can't drive the Hummer (it comes with a guide), the Alaska Hummer Adventures is traditionally a 4 hour tour where you get to do whatever you desire. However, they have hourly availability (2-hour minimum) and can operate as a limo or private car service - whatever you wish. The Hummer H2's have seating for 5 passengers and ample luggage room in the back. Check out my experience on the Alaska Hummer Adventure!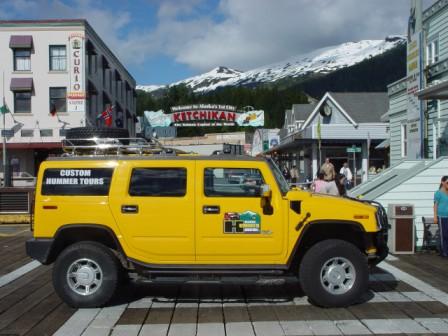 Which ever car rental company you decide, you will have an amazing time in town!  Enjoy!
More Ketchikan Information...