Alaska Hummer Adventures 
Private car service - Indiana Jones Style!
The Alaska Hummer Adventures tour is one of my family's favorites in Ketchikan.  The hardest thing about it is how to describe it!  The down and dirty about the tour is....
YOU choose where you want to go, what you want to do,
and how long you want to do it!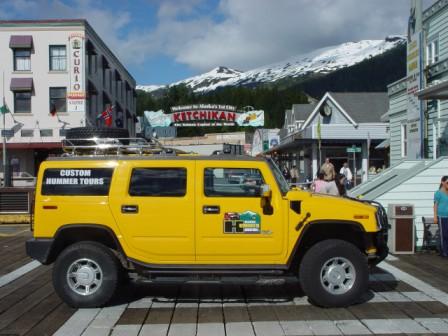 It's...well...whatever you want it to be!  I guess I'll start at the beginning.  The standard Alaska Hummer Adventure Tour is 4 hours and includes the Hummer H2 and a guide.
The price you pay ($689 for 4 hours) is for the vehicle and guide, no matter how many people are in the Hummer, which can hold up to 5 passengers, and includes all park & entrance fees.
Our first impression was it was too expensive.  But after taking the tour, it is easily worth every penny - and more!
But the pricing is second to the incredible service you receive. The guides are top-notch.  They know everything there is to know about anything you ask.
Trees, shrubs, wildlife, city history, native history, totem pole stories, flora & fauna, geology of the area, hotspots for taking photos, shopping, 'authentic' native or local items, the top spot for fresh Alaskan Salmon & Halibut to ship home, the best restaurants in town, you name it, they know all about it and can take you there!
Again, You choose where you want to go and what you want to do! 
The flexibility on this tour is one of the best parts!

Do you want to go sightseeing for 3 hours, and shopping for 1? No Problem!  Have you ever been on a tour where when you get there you think to yourself...Oh, this does not interest me...but I still have to listen to this guy talk for another hour before we can leave.  Not on this tour!  Simply tell the guide you're done....and you can leave as fast as you can get the family (or friends) back into the car.  And that is just one benefit of the Alaska Hummer Adventure tour!
The same goes if it's cold, windy, rainy, sunny, etc.  If you simply want to drive around and see the sights - No problem!  Or on the flip side, do you want to go hiking for 4 hours?  No problem - there is an Alaska Hummer Adventure guide for you that can take you to some incredible hikes on the island.  Would you like to do some Geocaching while in Ketchikan?  There are guides who are avid geocachers!  Whatever your interest, there is a guide for you.
When you book a tour with Alaska Hummer Adventure you're given a Preference Sheet that lists several options such as: 
Visiting the Totem Pole parks in town:  The tour can go to all of the Totem Pole parks in Ketchikan including

Totem Bight State Park

,

Saxman Native Village

,

The Totem Heritage center

, and (my personal favorite)

Potlach Park

where we met the local native carver, Brita, and got to see her carving a totem pole - up close and personal, we were able to see all of her tools (many handmade!), ask her questions, and pose for pictures with her!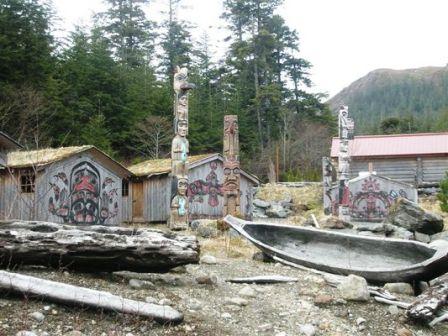 Wildlife Viewing:  See Bears, Eagles, Eagles Nests, Deer, Sea stars, jumping Salmon, Birds, Sea lions, whales, and more!  The guides do their best to take you to the hottest wildlife viewing areas, at the best times, to find wildlife on the island. 

We had a fabulous guide who took us to several spots around town for wildlife viewing.  We went down to the boat launch and were able to see many Eagles in the trees and on the break wall, amazing sea life, including 5 different sea stars and a sunflower starfish!  Then we went out to a different spot and saw bears chasing salmon and sea lions in the cove.  It was an incredible day!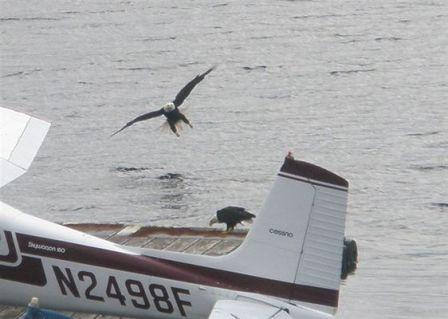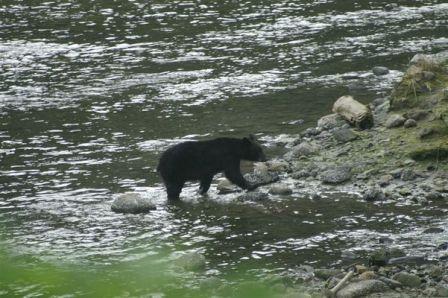 Hikes & beach walks:  There are a ton of hiking opportunities around Ketchikan and the Alaska Hummer Adventure guides can take you on short walks through the rainforest & muskeg, on long strenuous hikes up to incredible lakes, out to the local beaches, or anything in between!  We chose to take a longer hike and were rewarded with incredible views of Silvis lake.  And our guide explained all of the trees, shrubs, berry bushes, geology, & flora & fauna along the way.  I was stunned that she knew so much!
Views of the stunning beauty of Ketchikan:  Visit an incredible waterfall, travel up over 1,000ft to Slide Mountain where you are rewarded with an awesome panoramic view of the Tongass Narrows, Guard Lighthouse, & surrounding islands, travel the back streets through town to see how we live in Ketchikan, or stop anywhere along the way.  We were driving along and saw a stunning view of the islands and asked if we could stop real quick - no problem!  Then we went up Slide Mountain and our guide made several stops along the way.  At one point we even got out and went berry picking for Salmonberries, Huckleberries, Blueberries, and even Thimbleberries!  Who knew there were so many berries here!  Up at the top we marveled at the view and our guide explained the history of logging in the area.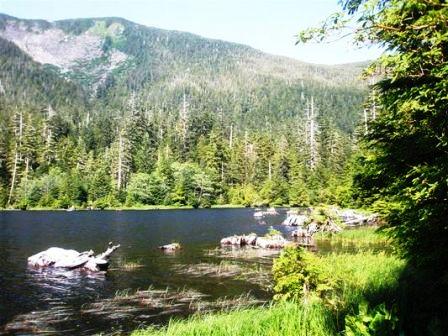 Historic City Tour: Travel through town and stop along the way to discuss the history and culture in town.  We made several stops on the 'City Loop' and our guide took us to places other tours miss.  We stopped at Creek Street and walked Married Man's Trail, saw the baseball fields where the kids play ball on gravel (ouch!), stopped and wandered through beautiful City Park, drove down the back streets and saw first hand how a lot of Ketchikan is built OVER the water, viewed the many Totem Poles in the downtown area, drove through the world-famous tunnel, saw the many marinas around town, the Coast Guard Station, and a few parks around town.


And many more attractions and stops along the way:  You could even choose to go to the Southeast Alaska Discovery Center, offering information about Alaska's wilderness areas, ecosystems, wildlife, natural resources, public lands, and native cultures.   This center is both educational and entertaining.  All of the above attractions are included in the Alaska Hummer Adventures tour.
But did I mention the flexibility of the tour?  If you want to stop for coffee, no problem.  How about lunch?  Or did you forget something and need to make a quick stop at Wal-mart....you guessed it - No problem!
OH!  And I forgot one important thing.  During the Alaska Hummer Adventures 4 hour tour, you are treated with cold bottled water as well as a wonderful light snack that is perfect to tie you over to your next meal on the ship.
Reservations for Alaska Hummer Adventures

 - Through your Cruise Ship Excursion Desk
 - Through their website!

Their rates are as follows:
$689 for a 4-hour tour


This is one tour you definitely won't want to miss!  The company is family-owned and we found our guide absolutely loved her job, which showed on our tour.
They have 5 Hummers available; all different colors - white, yellow, red, silver & gunsmoke blue.  We were thrilled in the Yellow one and gladly gave up our 'golden ticket' so we could ride in it.  The inside of the Hummer is so plush!  There was plenty of room for 5 adults, all of our backpacks, our camera bags, & our purchases throughout the day, and we were told they can even take fold-up wheelchairs.
Umbrellas were provided when it started to rain and the seats had seat warmers!  They even dialed in our favorite music preference.  Doors were opened & closed for us.  This was a first-class tour all the way around.  We started out the day by meeting our guide but ended the day saying goodbye to a friend!
If you have any questions at all, please feel free to contact us and ask about our experiences!  And please tell us about your experiences with the Alaska Hummer Adventures!
More Ketchikan Information...
Home  |  Ketchikan Tours  |  Alaska Hummer Adventures