Ketchikan has some of the Best
Bear Viewing in Alaska!
Best locations & best time to go


Spectacular! While there are many places to go bear viewing in Alaska, Ketchikan has access to some of the best places to see black bears (and sometimes brown bears!) in their natural habitat, feeding on salmon in streams. There are Ketchikan Alaska bear viewing areas only available by floatplane or boat, tours that include a walk through the rainforest, and even an area outside town that is easily accessible!
Best Ketchikan Alaska bear viewing areas:


Anan Wildlife Observatory

Arguably, the best location for bear viewing in Alaska is at the Anan Wildlife Observatory.
Anan Bear Observatory is one of the few places in the world where Brown and Black bears can be found together, feeding on the thousands of spawning salmon and is best visited in early July through Mid-August.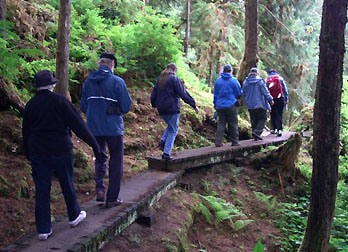 The Anan bear observatory is located approximately a half-mile walk from the drop off spot along a partially surfaced trail with stairs.
At the Trailhead you are met by USFS personnel who check your permits, makes sure you don't have any food, & gives you a safety speech on what to expect during your walk.
The walk through the rainforest is approximately 30 minutes and is magnificent! The trees, shrubs, berries - everything is so lush! Look and listen for the eagles that share this area too.
The observatory includes spacious observation decks, a covered viewing shelter & a photo blind just above the rushing waterfalls below, bringing you mere feet from the bears feeding below! There are two outhouses, one at the observation area and the other at the trailhead.
The observation decks give panoramic views of the area, allowing you to watch for bears & wildlife along the paths & forest alongside the waterfalls.
The photo blind (near the bottom of the photo) is located right on the waterfall and is positioned in the perfect spot to capture spectacular bear pictures! There is a maximum time limit of 30 minutes inside the photo blind to allow everyone the opportunity to use it.
Notice for 2022 early season visitors: Please be aware that construction on a new observatory deck is occurring in the spring of 2022. The viewing deck will not be available until July 1, and the trail may be closed at times. All work will be concluded for the start of the permit season July 5th.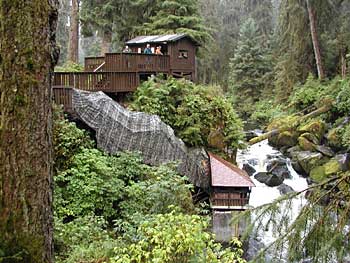 But oh, what magnificent bear pictures you can capture while bear viewing in Alaska!


From Ketchikan, Anan is accessible by flightseeing tours only because of the distance from Ketchikan (45 minutes by air!). **Visiting Anan Bear Observatory requires a permit and these permits are often difficult to obtain.**
The permit capacity for the Anan Wildlife Observatory is 60 passes/day. Of the 60, 30 are reserved by guiding operations, 18 are made available for public reservations on February 15, & the final 12 passes become available for reservation 3 days prior to the visiting date, to accommodate last minute planning.
To check the status of the available permits for the day you are interested in, check the Anan Wildlife Observatory Reservation Page which shows which companies have permits for each day. Contact the flightseeing vendors early to determine if passes are available on the day you arrive.  Also - check out the authorized Guiding Companies for more options.
While Bear Viewing in Alaska is the main draw at the Anan bear observatory, there are also Steller Sea Lions, Wolves, Wolverines, Bald Eagles & a host of other interesting birds including gulls & American dippers that are also often spotted here!
Be sure to check out the Anan NatureWatch Viewing Site!
Traitor's Cove/Margaret Creek


Another incredible bear viewing area is at the Margaret Creek Wildlife Observation area, better known as Traitor's Cove. Bear viewing in Alaska at Traitor's Cove is available late July until early September, but best in August.


Traitor's Cove is accessible by a flightseeing tour (a 20 minute flight) or a boat ride (approx 45 minutes). The Boat tour is called the "Expedition Black Bear" tour and is a boat ride out and back to the the bear viewing area leaving right from the downtown Ketchikan Cruise Ship docks. This tour is perfect for those who want to go bear viewing but are frightened of flying!

Depending on the tour you take, you will be dropped off at the dock and a vehicle will either pick you up and take you to the Margaret Creek trailhead or you simply walk along the road to the trailhead, approximately 1 mile from the dock.
Once at the trailhead, you are met by a guide who, armed with pepper spray, walks you along the easy, quarter mile rain forest hike along the planked & partially surfaced trail to the observation platform. Be sure to take in the gorgeous rainforest with it's ferns, trees, shrubs, & berries!

The Margaret Creek Wildlife Observation Site is situated above a waterfall on Margaret Creek, a prime location from which to view the black bears catching salmon as they take on the rushing waterfall. This observation point gives you a spectacular view for bear viewing in Alaska & the perfect spot for snapping black bear pictures while they feast below.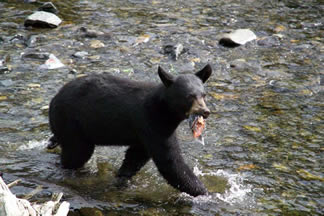 When you tire of watching the bears feast on salmon (as if that can happen!) you can walk just around the corner to a bridge where you can peer down into the water to see the hordes of salmon as they prepare to either jump the falls or go up the Salmon Ladder at Margaret Creek, another spectacular sight!

Because you're in the rainforest, don't be surprised to spot Eagles in the trees also waiting for their turn to feast on the salmon as well! And, of course, while at the drop off/pick up spot, watch for sea lions, birds, & minx! Traitor's Cove has excellent bear viewing in Alaska!
Neets Bay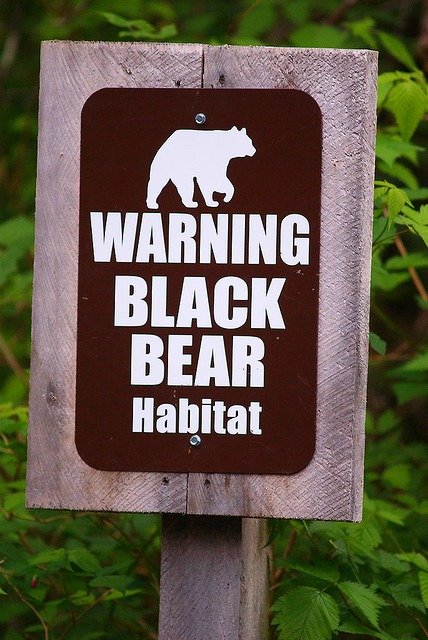 You have two options for bear viewing in Alaska at Neets Bay - either via floatplane or by boat and each has pros & cons, which I'll detail.
Neets Bay is located 40 miles North of downtown Ketchikan, only 25 minutes by air and 35 minutes by boat. The best time for Neets Bay for bear viewing is late July through early September.
Black bears are attracted to Neets Bay because of the Neets Bay fish hatchery where thousands of returning Coho, Chinook, & Chum salmon (read all about the different types of salmon here) begin arriving in early June.
Neets Bay Flightseeing Tour

The Flightseeing tour to Neets Bay is an exclusive arrangement through Taquan Air. Because of this arrangement, clients are allowed to exit the plane and walk up to the hatchery and are given a tour by an onsite tour guide. The hatchery is a short 1/4 mile walk to the platform through the rainforest where your guide provides details about the salmon cycles & black bears that return year after year.
There is an observation area including a small gazebo and benches, but you typically stand on the shore and watch as the bears take their turn fishing for salmon.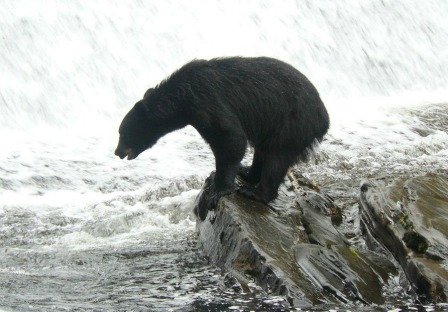 Pros for Flightseeing Tours  
- Includes a floatplane ride!  
- Also includes a tour of the hatchery  
- Up close views of bears
Cons for Flightseeing Tours
- Trail to the Hatchery can be muddy
Wear appropriate shoes

Neets Bay by Boat


The Boat tour to Neets Bay, often called the 'Neets Bay Bear Cruise' starts with a short, narrated bus ride from downtown Ketchikan to the boat.
The boat ride to Neets Bay takes approximately 35 minutes. Upon arrival at Neets Bay your captain will search the streams & shorelines looking for bears & other animals.
Unlike the flightseeing tour, you do not disembark the boat and go up to the hatchery where black bears predictably gather during the height of the season.
Pros for Neets Bay Boat Tour  
- Includes a boat ride!
Cons for Neets Bay Boat Tour
- Not allowed to go to the hatchery
- Do not exit the boat
- Only see what is on the shoreline

The Neets Bay Boat Tour seems to be much more hit & miss on bear sightings than the flightseeing tour - even though there are no guarantees on either bear viewing in Alaska tour.


Alternate bear viewing sites on Prince of Wales Island

A couple of the flightseeing companies in Ketchikan also have areas on Prince of Wales Island that they offer for bear viewing in Alaska flights to. While not as established as the sites such as Anan, Traitors Cove, or Neets, they still provide reliable sightings of bears!



Bears by vehicle & other 'Bear Tours' in Ketchikan


While Ketchikan Alaska bear viewing is mostly done via floatplane to remote areas, there are opportunities to see bears while on van, bus, or taxi cab tours, zipline tours, and other tours in Ketchikan.


Herring Cove


There is only one bear-viewing area in Ketchikan that is accessible by vehicle, located at the very south end of town at Herring Cove. Herring Cove has a healthy bear population due to the Whitman Lake Fish Hatchery that sits on the same cove.


Herring Cove is certainly not considered a 'prime' bear viewing in Alaska area when compare with the 3 sites above, however, bears are often seen here (It's where I go to see bears in town!) and many of the bus, taxi cab, & do-it-yourself rental car tours will come here for Alaska bear viewing opportunities.
Bears frequent this area during the salmon spawning season (mid-June through early September) although spottings are better an hour before & after low tide and after July.
I've heard it described this way which puts it in perspective: "If you spend enough time at Herring Cove, you will see a bear. However, time is short when you're on a cruise and you may not want to spend your 'time' sitting in one spot watching for a bear."
But spotting those bears & watching them chase the salmon in the water is so enjoyable!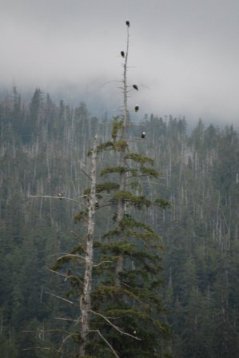 It's also very common to see several eagles in the trees, jumping salmon, seals, & shore birds at Herring Cove as well!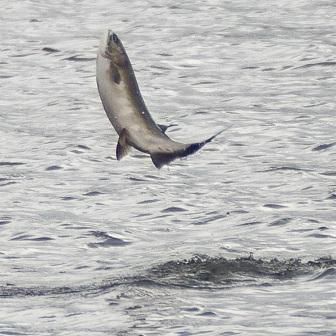 Herring Cove Bear Tours
Aside from the van & taxi tours, there are two bear viewing in Alaska tours offered alongside Herring Cove:
The Rainforest Wildlife Sanctuary Tour

- which is a slow, guided hike through the rainforest, a walk onto a deck overlooking a meadow, the stream below, & the Salmon Hatchery on the opposite side of the creek. The tour also includes viewing reindeer, eagles, & owls, a totem pole carver, and the remnants of an old sawmill.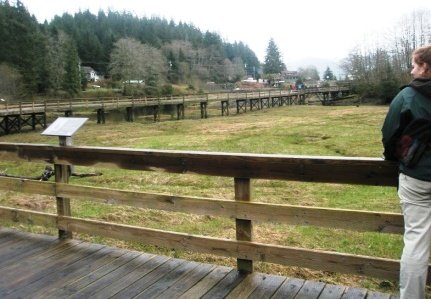 The Bear Creek & Eagle Creek Zipline tours - The ziplines are located just beside Herring Cove and the guides are excellent at pointing out bears, eagles, & other wildlife during the tour!
Bear Viewing in Alaska is AMAZING!!

Bear Viewing Tips
Do not bring food
Do not use a flash
Be alert - look around
Be patient - the bears are not in a zoo!

Whew! There sure are a lot of options in Ketchikan for bear viewing in Alaska! I sure hope this information helps you make an informed choice when deciding which Ketchikan Alaska bear viewing tour to choose! Be sure to take lots of bear pictures and share them with me! :-)
More Ketchikan Information...
Home  |  Ketchikan Tours  |  Bear Viewing in Ketchikan