Flightseeing in Ketchikan Alaska
Simply unforgettable views of the Misty Fjords National Monument
Flightseeing was on the top of our to-do-list when we first arrived in Ketchikan Alaska. On a slow work day we decided the heck with it, and took a floatplane out with one of the Ketchikan Alaska air charter services to the Misty Fjords National Monument. It was...amazing, indescribable, breathtaking, exhilarating, and so much more!! I'll try my best to describe our experience.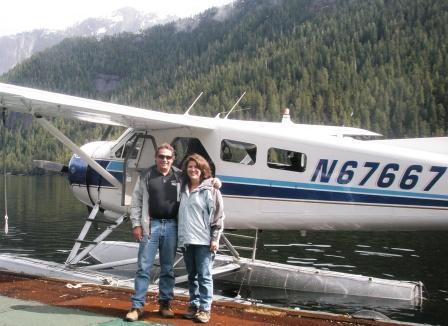 Misty Fjords Flight seeing in Ketchikan Alaska
Michael was the lucky one, getting to sit in the co-pilot's seat on the way out. The flight was spectacular, seeing Ketchikan from the air, identifying all of the features and seeing some new ones! As we flew, we saw all of the traditional trees of the area, amazingly beautiful islands, frozen lakes, lots of snow, black granite cliffs, & incredible colors everywhere.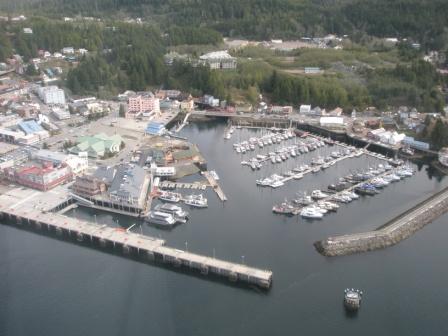 A Photo of Ketchikan Alaska from the floatplane
What is the Misty Fjords National Monument anyway? The Misty Fjords is an area of about 2 million acres that has been carved by glacial movement thousands of years ago. It's called the "Yosemite of the North" for it's similar geology. Check out the many reviews from those who have visited!
There are sheer granite cliffs (over 3,000ft high!)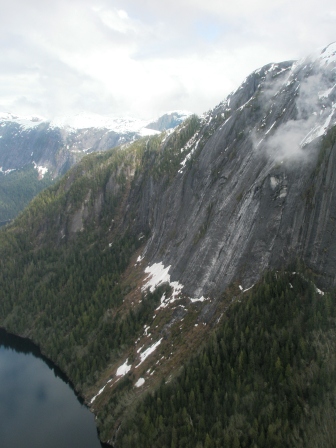 Sheer Cliffs on our flightseeing trip in Ketchikan Alaska
rounded mountaintops, lakes, cascading waterfalls,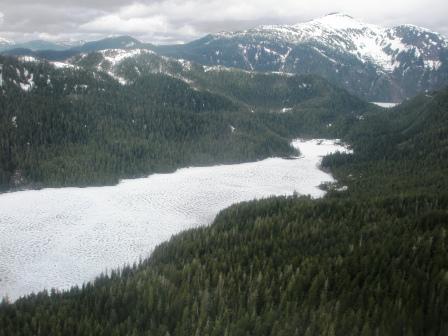 Frozen lakes seen on our flight seeing trip in Ketchikan Alaska
& pure, sheer beauty.
A Float plane in the Misty Fjords in Ketchikan Alaska
The floatplane we were on is called a 'Beaver' (de Havilland Canada DHC-2 Beaver) which is the top bush plane that can be adapted with skiis, floats, or wheels. It's a single engine prop plane that has room for 6 passengers.
We climbed in with 4 other passengers plus the pilot, and spent about 45 minutes flying from Ketchikan through the Misty Fjords, landing in the Behm canal after flying over New Eddystone Rock, a 237 ft tall column of basalt in the middle of the canal, a frozen-over Big Goat lake with an incredible 1,800 ft waterfall, and punchbowl.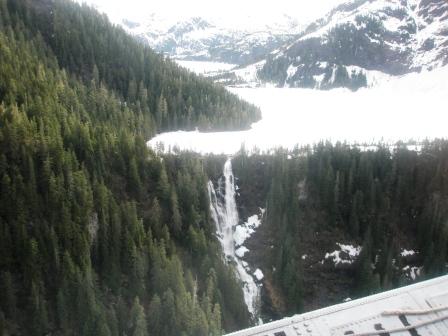 Big Goat Lake in the Misty Fjords in Ketchikan Alaska
We landed on a gorgeous lake and stopped at a floatplane dock where everyone got out, stretched their legs and looked around at the simply breathtaking scenery! The photos just don't do it justice!! The pilot was great, taking photos of everyone, telling us about himself, the area, and his job. It was obvious he enjoyed his job.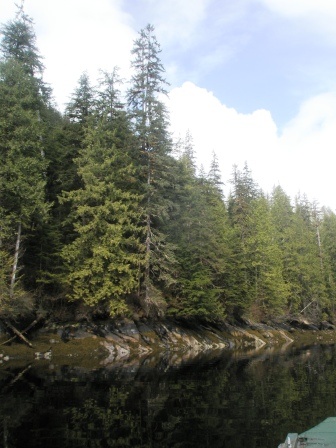 We stopped at a gorgeous lake while on a sightseeing plane in Ketchikan Alaska
We hopped back into the plane (I got to sit up front on the way back!!) and took an alternate route back with another water landing.
Touchdown! Our Floatplane landing in Ketchikan Alaska
It was great! Our pilot was fantastic, answering all of our questions and making sure we got to see all of the wonders of the area. What a treat!! I would highly recommend it to anyone. It was....awesome!!
Flightseeing Pricing Structures & Options
There are a lot of options available and different price structures to consider when you're choosing a flight but the most common indicators of price are:
Length of the flight. The shortest flights do not go to the Misty Fjords
The route (including what you'll see on the flight)
Whether it includes a 2nd landing at a lake, bear viewing area, etc.
The number of people inside the plane/type of plane
The least expensive trip will be short (some only 1 hour), will only fly over Ketchikan, will not include a 2nd landing, and will be full of passengers. Prices start at around $100-$200/person. **Be aware - these flights do not go to the Misty Fjords**
If you want a longer flight, wish to add a water landing during the trip, or wish to have an exclusive flight for your family, the price will go up. Expect to pay between $200-$500/person for 2-3 hour flights out to the Misty Fjords, including a 2nd landing.
There are also opportunities to combine your flight with other types of Ketchikan excursions & attractions, for example:
flights to bear-viewing areas: Anan Creek, Traitor's Cove, Neets Bay
wildlife viewing opportunities - whale watching, mountain goats, deer, bear
A flight and crab feast
A flight out to the Misty Fjords and a Boat Trip back
A kayaking trip with flightseeing out to the Misty Fjords
A flightseeing trip out to a fishing village
A flightseeing trip out to a Native American Reserve & Salmon bake
These combinations will usually cost between $200 - $500 per person. Whichever flightseeing tour you choose, the spectacular views, amazing scenery, & breathtaking area will delight!
There are several Ketchikan tour companies offering flight seeing to choose from. We chose Taquan Air for our first flight and were incredibly impressed. You can purchase flightseeing tickets online, book through your Cruise Ship, or inside the Ketchikan Visitor's Center upon arrival (if available).
---
Visitors to the Ketchikan Flightseeing page may also be interested in the following pages:
Ketchikan Tours & Excursions - Fun things to do in Ketchikan Alaska
Cruises to Ketchikan - Cruise lines visiting Ketchikan Alaska
Ketchikan Webcams - Live views of the Ketchikan area!