An Outstanding Ketchikan Hiking Trail
The Deer Mountain Trail - a great day hike!


Another of my favorite Ketchikan hiking trails is the Deer Mountain Trail, conveniently located a short (although uphill!) distance from downtown Ketchikan. Although the official difficulty level is classified 'difficult', my classification is 'butt-buster'! :-)

A view from the top! Photo taken from the Deer Mountain Trail Summit
The Deer Mountain trail is arguably one of the best day-hike hiking trails in Alaska. No other close to town day-hikes in Ketchikan offer such dramatic panoramic views of the surrounding islands, city, alpine lakes, plus hiking among lush temperate rainforest canopy, muskeg, and alpine ridges areas than the Deer Mountain trail.
But let me be clear - this is not an easy, saunter through the rainforest hike! It is classified difficult for several reasons - it has steep switchbacks which translates to lots of steps (hard on the knees!), rocky & uneven surfaces, conditions can get muddy (& snowy) in places, some areas may be difficult to navigate, & depending on the weather (which can change a lot in the 3000ft elevation change!) could envelope you in a thick fog or rain!


Did I scare you away? Good! You'll enjoy this hike then! :-)


(P.S. - it isn't THAT bad! And for all of you die-hard adventure folks there's even the 'Deer Mountain Challenge' put on by the local running club every August, an organized RUN up both the crazy hill AND the mountain!)
First, let me give you some details....
Deer Mountain Trail Details & Options

This Ketchikan hiking trail is approximately 2.5 miles from trailhead to summit.


The trailhead is approximately 1.5 miles from the Cruise Ship Terminals - BUT it is an extremely steep hill for 1/2 mile!  I suggest a taxi to the trailhead.


There is a 1 mile overlook with similarly spectacular views of the neighboring islands. (This is a good option for those who do not want to invest the 4-5 hours it may take to reach the summit & back!)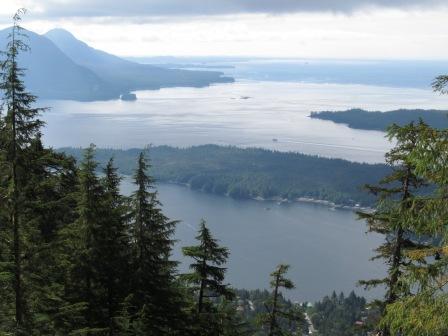 Elevation Gain: 3001 ft


Trip Time to summit: 2.5 hours (one way) - more if you're out of shape!


Trip Time to 1 mile lookout: 1 hour (one way)


Difficulty: More Difficult


Season: June through September (earlier can be snow packed!)


Cautions: The weather can change rapidly in this area. Be prepared for all weather conditions including strong winds, snow, & low visibility due to fog & rain.
General Ketchikan Hiking Tips

This Ketchikan hiking trail is typical of hiking trails in Alaska in that it has varied terrain - gravel, wooden stair steps, stone stairs, tree roots, small streams, muskeg, & snow fields (in season). You may want to consider bringing a foldable hiking stick, I don't go without mine!


Because of the weather conditions, be sure to

dress in layers

- and don't forget a

waterproof jacket

!


Depending on the snow still on the mountain & trail, you may need more than hiking boots to reach the summit! Consider bringing some

gaiters

- they're inexpensive, light, easy to pack, offer great protection for deep snow, and may prevent you from turning back from this great Ketchikan hiking opportunity!


Be sure to pick up a free personal locator beacon from the

Ketchikan Visitor Information Center

before your Ketchikan hiking adventure. If you end up lost it can be activated to send a distress signal and your GPS location to the

Ketchikan Volunteer Rescue Squad

. When you are back safe & sound, simply return it!


Another stop should be to the

Southeast Alaska Discovery Center

for info & advice from the U.S. Forest Service Rangers. You can pick up a

Ketchikan Hiking Guide

here as well.
My experiences & photos hiking the Deer Mountain Trail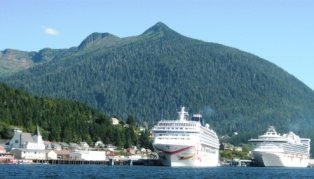 Although I've hiked the Deer Mountain trail many times now, I don't think I'll ever forget my first experience!
I had lived here only a few months before making my first attempt at the Hershey's kiss shaped mountain that greets every visitor!
Finding the trailhead was easy - it's well marked & has ample parking spots for locals & visitors with wheels.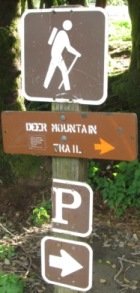 Most descriptions I've seen about Ketchikan hiking and the walk to the Deer Mountain trailhead say it's a 1/2 mile to the trailhead but it's really 1.5 miles from the Cruise Ship Terminal! And let me tell you, the last 1/2 mile is up an extremely steep hill!
If you're up to the hike - go for it! If not, I suggest hiring a taxi! It will cost you less than $10 to get there and can even make arrangements for the taxi to pick you up at the end of your hike.
If you wish to walk there, starting out at the Cruise Ship Terminals, head South on Mill Street (follow the traffic!), past Creek Street to Deermount Street. Turn left onto Deermount Street (Tatsuda's Supermarket is on the corner) and follow this street until it dead ends.
Turn right onto Ketchikan Lakes Road and hump it up the hill. Once at the top of the hill, you'll see a sign directing you to the left. Follow the street for another 100 feet or so and keep an eye out for the parking signs.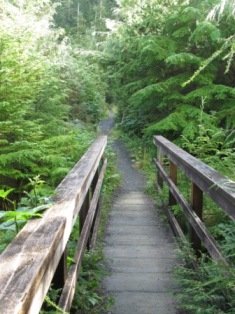 I set out on the hike which begins nice & mellow, hiking through the lush temperate rainforest canopy & through muskeg. Most of the trail was natural trail, though there were brief sections of boardwalk, wood stairs, & some areas of gravel.
I remarked about the fact that even though I was just barely away from homes & the 'city', the soothing rainforest sounds & tranquil trickling water that seemed to come directly out of the rocks put me immediately at ease.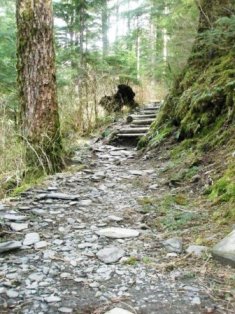 It seems like only moments later I encountered the first set of stairs and switchbacks that marked the hard part of the trail! And the huffing and puffing began. haha...
That's when the hard part really started! I'm a pretty competitive person and since stopping for a break signals weakness, I don't usually stop much. :-)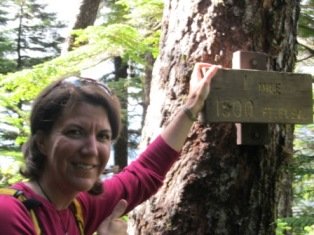 And thankfully there are markers on the trees indicating the quarter mile increments until you reach the 1 mile mark, or the 1st overlook!
(Yes, I'm sneaking in another 'break'!)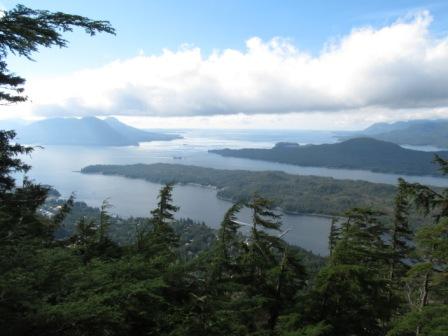 Once I saw the view, the hike up was deemed well worth it! I spent some time cooling down, chatting with some other hikers that were also on the trail, searching for a well-hidden geocache (even if I did break my sunglasses while searching!), and snacking on goodies I brought along.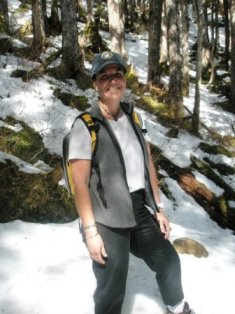 My very 1st attempt on this Ketchikan hiking trail was in mid-April and I didn't know any better so I continued on up the hill only to be turned back only 1/4 of a mile further.
My 2nd attempt was a little later in the year - this time I waited until September to make the attempt - and it was a success!
The majority of the hike is under a dense forest canopy but at about 2600 feet, above the tree line, the scenery changes to alpine vegetation.

And around every twist & turn in the hike the trail the views got more & more spectacular!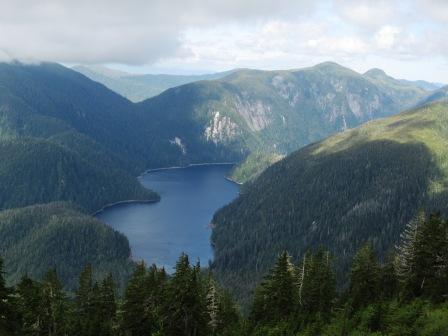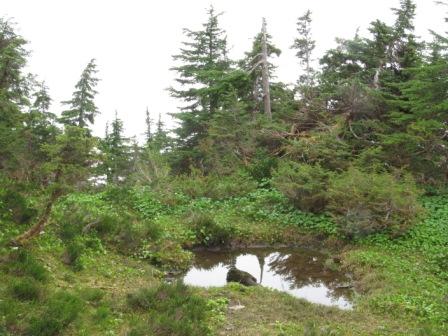 The fog was coming and going over the peak and one moment I had clear, gorgeous views.....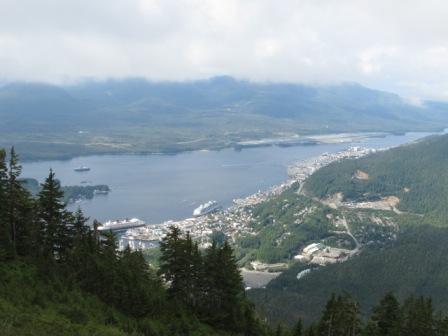 The next moment it was obscured almost totally by fog! (Ketchikan hiking can be like that!)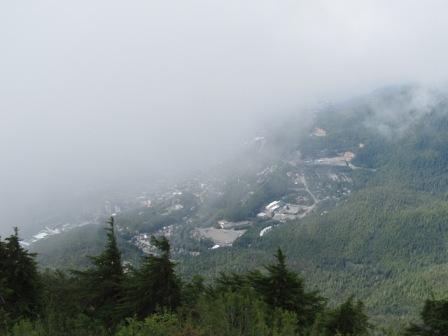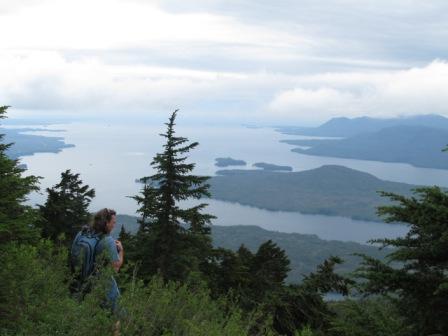 While these photos show only a hint of the view, here is a short panoramic video of the view!
I took some photos and headed back down the mountain.  It's been said that going downhill is the more difficult part as it's tough on the knees. I made it back to the car and promptly went straight to the Mexican Food Restaurant where I indulged in a huge burrito, chips & salsa, and a celebratory beer!
It was a spectacular day and I couldn't wait to do it again! With views like this, there's no wonder why Ketchikan Hiking is one of my favorite pastimes!
More Ketchikan Information...