Ketchikan Maps
Walking Tour, City, Island, & Area maps

Below you will find several Ketchikan maps to help orient you to our wonderful island and town.  Where in the world is Ketchikan, Alaska anyway?  :-)  Don't worry - you'll know exactly where it's located when you're done here!  Also, don't forget to check out the Walking Tour Map for a great, free, tour of the city!
Ketchikan Maps

Let's start with the basics - how about a quick google map of the area! Did you know it was that far South?  


---

Now that you know, more or less, where Ketchikan is located, here are a few more to make sure you know your way!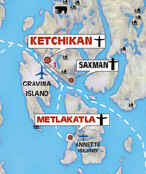 Here is a map of the many islands around Ketchikan.
Click here to save the map as a PDF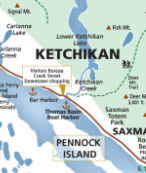 Zooming in a little farther we see a map of Revillagigedo Island
Click here to save the map as a PDF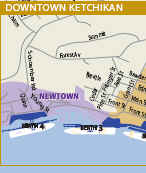 As we zoom in even further we get to City Level
Click here to save the map as a PDF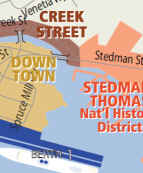 And finally we get to the downtown street level!
Click here to save the map as a PDF
---
Ketchikan Walking Tour Map

The Ketchikan Historic Society has produced a Walking Tour Map of Ketchikan that lists a total of 64 points of interest in the Downtown & West End part of town.  The map is broken up in two sections - the West End and the Downtown area. 

The Walking Tour Maps are free of charge and are found in the Ketchikan Visitors Bureau and all around town.  Click on the below links to view the map & description of the points of interest for each area. 


View Downtown Walking Tour Map




View West End Walking Tour Map
---

And for my boaters - Click the below photos for links to NOAA Charts: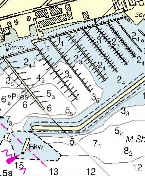 Click here to view the Ketchikan Harbor Chart
Click here to see the entire Alaska Chart list



---

Whew!  You shouldn't get lost now!  :-)  I hope I have provided all of the Maps of Ketchikan you can stand!  Please contact me if any of the links are broken or you are unable to view the maps or if you simply need more information!


More Ketchikan Information...