One of the best Baked Halibut Recipes!
Baked Halibut Supreme


As an Alaskan who absolutely loves Halibut, I am always on the search for amazing Baked Halibut Recipes. Sure you can scour the internet and wade through the many, many recipes for halibut but for me, there's nothing like tried and true easy halibut recipes that have been passed down through the generations, like this one!



This recipe for Baked Halibut Supreme is not only super scrumptious, but is an easy halibut recipe that will quickly become one of your favorites! Since I love to go halibut fishing (and go as often as I can!), it is not unheard of to bring home 20 pounds of halibut at a time. After these fishing trips, I'm always searching for a new Alaskan halibut recipe to try and this is certainly not only one of the easiest, but one of my personal favorites!


Baked Halibut Supreme
By ExperienceKetchikan.com, Feb 8, 2011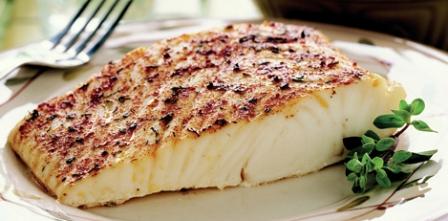 Ingredients
2 pounds        Halibut (frozen works best!)
1 can               Cream of Mushroom Soup (Or homemade!)
1/2 can           Water
1/2 package  Onion Soup Mix
1/2 cup        Butter
Enough milk to cover the halibut
Instructions
Preheat the oven to 350 degrees.


Place the halibut in a flat dish and pour the milk over the halibut. Soak for 2 hours. Drain thoroughly. Place the halibut in a baking dish.


In a medium sized saucepan, combine the soup, water, onion soup mix and margarine. Mix together and heat until just boiling.


Pour the soup mixture over the halibut and bake for 20-30 minutes, until the halibut is flaky when tested with a fork.



More Baked Halibut Recipes...