Alaska State Ferry Information
Explore Alaska your way on an Alaskan Ferry


The Alaska State Ferry, part of the Alaska Marine Highway System (AHMS), is the perfect way to get to Ketchikan as well as exploring other amazing cities on the Alaskan coast. Whether you're traveling by foot, bicycle, motorcycle, car, motor home or even kayak, you can do so on the Alaska ferry system. Wave goodbye to stress as you let someone else do the driving for a while! Have your camera ready as you will see some of the most beautiful coastline in the world.
Travel on the Alaska State Ferry
The trip of a lifetime for those who like comfortable adventure.

I have had the opportunity to travel on the ferry multiple times and each time I am simply amazed at the stunning beauty, incredible wildlife viewing, and fun I've had aboard the ferry. I've made life-long friends from striking up conversations with other passengers - many from all over the world. Of course, I have also learned a lot since that first trip and have created a 'Top 10 ferry travel secrets' - don't forget to read them!


Alaska State Ferry Routes


To get to Ketchikan, you need to take the Inside Passage Route. The Inside Passage Route begins in Bellingham with stops in Prince Rupert, Ketchikan, Skagway, Haines, Juneau, Hoonah, Tenakee, Angoon, Sitka, Kake, Petersburg, and Wrangell.

The Alaska State Ferry Inside Passage Route Map

To arrive in Ketchikan from Washington or Canada, your only two options are to either begin in Bellingham, Washington or Prince Rupert, BC, Canada. The price difference between the two is pretty substantial and many travelers choose to drive to Prince Rupert and begin their Alaskan Ferry trip there instead of beginning in Bellingham, WA.
The trip from Bellingham, Washington to Ketchikan takes approx 38 hours while the trip from Prince Rupert, BC is only about 6 hours long.
Other Alaska State Ferry Routes are:
The Cross Gulf Route - during the summer months of June through September, the M/V Kennicott makes bi-monthly trips from Prince Rupert, Ketchikan and Juneau to Whittier, with stops in Yakutat. This route is a service link between the Inside Passage and the Southwestern routes.


Southwest Alaska - Prince William Sound to Kodiak Island - The Southwestern Routes take you through Prince William Sound and into the Gulf of Alaska, around the Kenai Peninsula and into lower Cook Inlet.


Southwest Alaska: The Aleutian Chain - Remote, beautiful, and mystery awaits you on the route that takes you from the Aleutian Islands all the way to Unalaska/Dutch Harbor!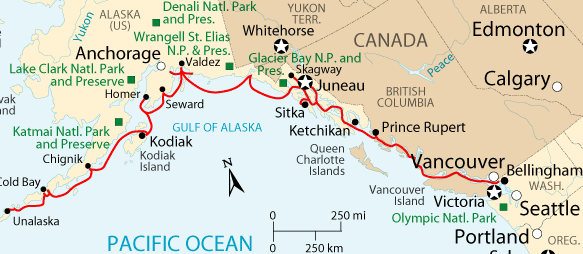 Check out all the stops on the Alaska Marine Highway System!

Traveling on Alaska Ferries with a Vehicle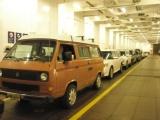 One of the major advantages of cruising on the Alaska Ferry System is the option to bring a vehicle. When my former husband and I first visited Ketchikan we drove our VW Westfalia from Mexico, into Canada and began our Alaska Ferry trip leaving Prince Rupert, Canada. We loved the fact that traveling on the ferry was so easy and versatile. No matter where we wanted to go, we could either reach our destination or get close enough to drive the rest of the way through the ferry.
Traveling with a vehicle is incredibly easy. I have had nothing but positive experiences with booking the ferry, the workers at the ferry terminals, the calm & patient workers in the ferry that helped everyone park, and the workers inside the ferry.
Traveling with Pets on the Alaska Marine Highway

Pets are welcome aboard the ferry but must remain on the car deck while underway. However, you are given the opportunity to visit with them several times per day during extended sailing legs.
A small fee is charged for pets traveling from Bellingham, WA ($51) or Prince Rupert, BC ($26), but pets travel free to all other ports in Alaska. Service animals accompanying a disabled person travel free.
Your pet must have a health certificate with proof of current rabies vaccination, issued within 30 days of travel. If you're traveling through Canada, proof of a rabies vaccination within the last three years is required, but passengers should check directly with Canadian customs for additional information.
Alaska Ferry System Costs


The Alaska State Ferry system has implemented "Dynamic" pricing which has thrown a bit of difficulty in quoting fares.  Fares are based on distance, so the further you travel, the higher the fare.  Also, prices go up as the availability goes down, so the earlier you book, the better price you will get.  There are also price increases 4 days before and after big events so keep that in mind.  And finally, prices will increase as you get closer to the sail date:  $20 up to two weeks before departure, $50 two weeks to three days before departure and $100 within three days of departure. Passengers are encouraged to book early for the best fares!  
The costs are 'a la carte' so depending on the number of people traveling, the vehicle and its size, where you're going and where you want to sleep will determine the total cost.  This way you can tailor your costs to your budget! 
For detailed pricing, the online reservation tool is easy to use and can give you exact costs. Be sure to check for discounts & special fares offered or, may I suggest, an Alaska Cruise through the inside passage.
It's Easy to make a Alaska State Ferry Reservation!
First check the online schedules here. Enter the date you wish to travel and it will return the closest date to your selection. Explore the other options to find your favorite!
OR....simply make an online reservation now on the Alaska State Ferry website.
If you prefer, you can call either (800) 642-0066 or (907) 465-3941 to have a reservation specialist assist you with your booking.
***Important***
Be sure to know the length, height, & width of your vehicle before you make a reservation - don't guess! The vehicles will be measured by Alaska State Ferry personnel! You will also need to provide the full name, date of birth, & citizenship of each passenger and, if traveling to or from Prince Rupert, their passport information. 

Oh, and just for fun....did you know....the Alaska State ferries are often called the 'poor man's cruise ship' as they make stops in the same ports as the cruise ships and you can literally jump on with a tent & sleeping bag and spend your nights on the sundeck cruising up and down the Alaska coast!
AND...The Society of American Travel Writers recently named Blue Canoes of the Alaska State Ferry System one of the Top 10 most exciting ferry rides in the world! It's worth mentioning, even if it isn't the Inside Passage route. :-)

Other FAQ's that I have been asked:

Can you get on and off along the way?

Yep! That's the fun of it! You decide where you want to go and how long you want to be there. Just be sure to reserve the car and cabin space! If you're just heading to Ketchikan you will have a direct run from Prince Rupert but may be stopping in Prince Rupert if you leave from Bellingham.

How far in advance do I need to make reservations?

If you're traveling without a car and don't need a cabin, space is almost always available. But cabins and space for your car are booked quickly. I'd recommend you book WELL in advance (especially for travel during the summer!) to ensure you get your preferred travel dates.  For example, already in April 2022, the first available spot is in October for a vehicle!  



The Alaska State Ferry is one of the most rewarding experiences of all of my travels in and around Ketchikan. Don't miss it! Enjoy your trip... :-)
More Ketchikan Information...