Ketchikan Real Estate
Fascinating characteristics!
Ahhh....Ketchikan Real Estate. It is still a surprise to me that for the first 4 years we lived here, we rented a home. It really wasn't even on our radar until year 5 and then, wow! Did we have some interesting things to learn about Ketchikan AK Real Estate!
Our experiences & unique items to Ketchikan (I think!)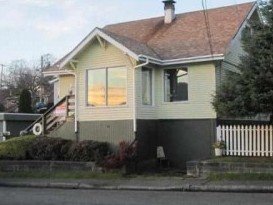 Before I tell my story of purchasing our first house, let me give you some background on me & my experiences.
I grew up a city girl. I did live in the country for a short stint but moved back to the city just as soon as possible - and I'm not originally from Alaska (gasp!).
So when we decided to purchase a house in Ketchikan I was a total newbie to buying in Alaska.

Luckily for us, we found a fantastic Ketchikan Real Estate Agent - Craig Moylan - of Coastal Real Estate. He was patient & kind as we both learned the differences in home styles, the intricacies of living in Southeast Alaska, and how the system worked. And of course was tolerant of my zillion questions!
There were lots of things I found fascinating (and odd!) about Ketchikan Real Estate, for example:
Construction & Maintenance
Most houses are wooden - this is because there used to be timber mills in the area and it was the building material of choice. Shipping building materials up here


The constant rain & wind are your enemy and regular maintenance is difficult because of the weather. Imagine needing to paint your house and having to wait until you know it will not rain for 2-3 days in a row (which is rare!!)


You should pressure wash your house to remove the moss, algae, mold & mildew growth from the roof & siding! While it's mostly for aesthetics, it can also cause damage. (Don't let it look like this!)

Almost half of the houses in the city are over 50 years old


The Average Home Price within the city limits is approximately $250,000.
Much of the island is rock and many of the houses are built with post & pier (or post & pad) construction.


Because of the limited building area, there are very few single level houses. Many are older & smaller and utilize attics for additional living space. Oh, and there are no basements.


Because of the limited availability of building supplies, there are lots of remodels but not many tear down & rebuilt houses.


There are so many stairs!! From staircase streets (which are legal city streets!) to two & three level houses, one thing most houses have are stairs!

Photo courtesy of Christopher J. May

And speaking of stairs, you'll notice a lot of shingles everywhere - on many boardwalks, stairs, & paths (like in the photo above!) - these help keep you safe & provide secure footing to slick areas.


Utilities
Most of the houses use Heating Oil to heat the house, which can be very expensive! ($5.00/gal - ouch!)
Thankfully, most of the electricity is provided by Hydroelectric power and the rates are low (unless they have to fire up the generators during high usage/low lake levels)
And even better, water service is a flat rate, it is not billed on usage
Air conditioners are a rarity - even at the hotels! Our cooler weather is our air conditioning!
Living outside the City Limits
If you live outside the City Limits you must use a septic system.
You must also use a cistern as your water source - a rain collection system that collects in a large tank (sometimes plastic, sometimes metal)
There are many styles to choose from!
There were several things that I was surprised & amazed to learn about Ketchikan Real Estate.
First of all, there are so many differences in the properties!
You won't find many of what I call 'track' homes - a whole bunch of cookie cutter type houses, every one the same as the rest.
Many of the houses here I would call custom and there is every style available!
Most are in the 'Pacific Northwest Style'...
Or Craftsman...
Ranch style...
There are plenty of duplex/triplex properties too
(Approx 50% of the houses are rented)
Or how about your own island?!
Nice, huh?!
Where on the island do you wish to live?
And differences in where you wish to live! Do you like in-town living? Or do you want to be away from the hustle & bustle of the city?
Our first year in Ketchikan we lived in town, near the Mall and I absolutely loved being so close to everything. We could walk to work, walk to the grocery store, and there are plenty of activities & places to go around Ketchikan.
Then we moved to the North end of town and spent 4 years there - it was nice to 'get away' from the hustle & bustle of Ketchikan and slow down but I missed being in the heart of town. As silly as it sounds, making the 12 mile drive into town was sometimes too much. I found we holed up a lot more, which was not always a good thing!
Finally we purchased a house in downtown Ketchikan and have been here since. I love being within walking distance of work during the Summer and being in the heart of the city.
Ketchikan Real Estate Companies
There are four Real Estate companies in Ketchikan:
Re/Max of Ketchikan
Gateway City Realty
Big Dawg Realty who specializes in property management
Fun stuff! I hope you enjoyed learning about the interesting aspects of Ketchikan Real Estate! Let me know if you have any further questions on my Contact Us page.
---
Visitors to the Ketchikan Real Estate page may also be interested in the following pages:
Ketchikan Employment - Jobs available in the Ketchikan Area
Ketchikan Webcam - Live photos of the Ketchikan Area
Ketchikan Weather - The highs & lows of living here!