The Ketchikan Map Page
Maps to help orient yourself to Ketchikan Alaska!


A Ketchikan Map can help you orient yourself with Ketchikan Alaska. There are several Ketchikan Alaska map options and I hope you'll find what you're looking for here. To start out with, let's look at the big picture. And be sure to check out the Free Ketchikan Walking Tour Map as well!

Ketchikan Alaska is located in Southeast Alaska. Yep, you heard me, SouthEAST Alaska. This trips up people all the time but check out the map, Ketchikan is located on the east side of Alaska compared to the entire state. So where is that?!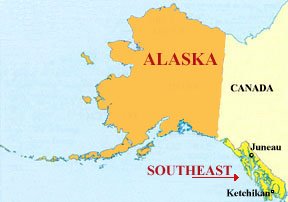 Alaska State Map pointing to Ketchikan Alaska
Ketchikan Map of Downtown


Let's start with a closeup of the Downtown Ketchikan area. This map shows you the streets near the Cruise Ship Docks, Creek Street, & the main downtown streets closest to where the Cruise Ships dock.
View and save the Downtown Map as a PDF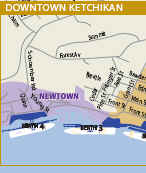 Zooming out a little bit, we see not only the downtown area but also more of the town as it stretches out to the North. This view shows you the Ferry Terminal as well.
View and save the Ketchikan City map as a PDF
Revillagigedo Island Map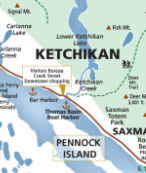 Did you know that Ketchikan is a city on Revillagigedo Island? Yep! This Map of Ketchikan Alaska shows the entire island, roads on the island, and some of the attractions outside the downtown area.
View and save the Revillagigedo Island map as a PDF
Map of Ketchikan & Surrounding Islands


Now that you have a good idea what Ketchikan is like, let's look at another map of Ketchikan Alaska that shows the surrounding islands.
View and save the Surrounding Islands Map as a PDF
Nautical Maps of Ketchikan Alaska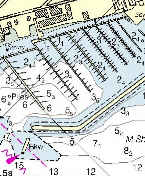 And for the boaters out there - Here are links to the NOAA Charts of the area:
View the Ketchikan Harbor Chart
View the entire Alaska Chart list

Hopefully you found what you were looking for! Please let me know if there are any specific maps you would like to see!

More Ketchikan Information...