Ketchikan Alaska Weather
What to expect during your visit!
Being prepared for Ketchikan Alaska weather can make or break your visit.  Dressing and preparing for the weather you will experience is key to enjoying our city!  Is it pouring?  Drizzling?  Sunshiny?  Windy?  If you're going to visit Ketchikan, you need to know all about the weather so you know how and what to pack for your visit!
In a few words, Ketchikan weather is typically cool & damp.

The summers are very mild, with high temperatures during June, July, & August in the mid-60's F/15's C. The 'shoulder' season of May & September brings cooler weather and it is typically about 5-10 degrees colder.

The average Ketchikan Highs & Lows in °F & °C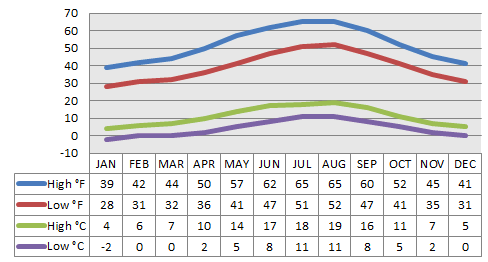 The average summer temperature is 55 degrees °F. On average, the warmest month is July and the coolest month is January.  
The key to enjoying our temperatures is to dress in layers! Be sure to read the What to Pack page for details!
Will it rain while you're in Ketchikan? Probably  :-)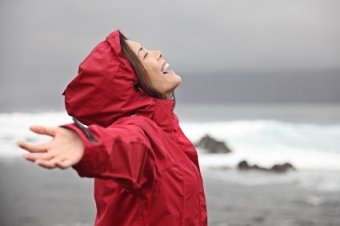 Ketchikan Alaska weather is one of the rainiest places in North America.  We're located in the heart of the Tongass National Forest – the largest rainforest in North America....so we get rain!
But don't let that get you down - We don't!  Just be prepared, dress in layers (including a waterproof jacket!), and enjoy!
We get an average of 160 inches of rain a year.  You read that right – that's over 13 feet of rain (4 meters!) a year.  So if it's not raining during your visit, count your lucky stars.
Now granted, the majority of rainfall happens during the spring, fall, & winter months (the maximum average precipitation occurs in October), but there is still plenty of rain in the summertime.
Imagine this – the average rainfall in the month of August is about 9 inches.  That's as much rainfall in just one month than the city of San Diego, California gets the entire year!!  But this blessed rain allows us to live in a lush green rainforest all year, and fills our water tanks (& waterfalls!) year round.  Don't worry about snow though – our snow is usually between December and April.


What Ketchikan Alaska weather to expect during your visit
So what should you expect during your visit?  What should you pack for your visit to Ketchikan? Living here for the past few years, when it comes to weather Ketchikan Alaska will either be rainy, sunny, or overcast. Wow, what a revelation, huh?
But seriously, the weather changes often so please be prepared for anything! Ketchikan is located on the water, so treat your visit as if you were going to the coast – rain, fog, & cool weather is a probability!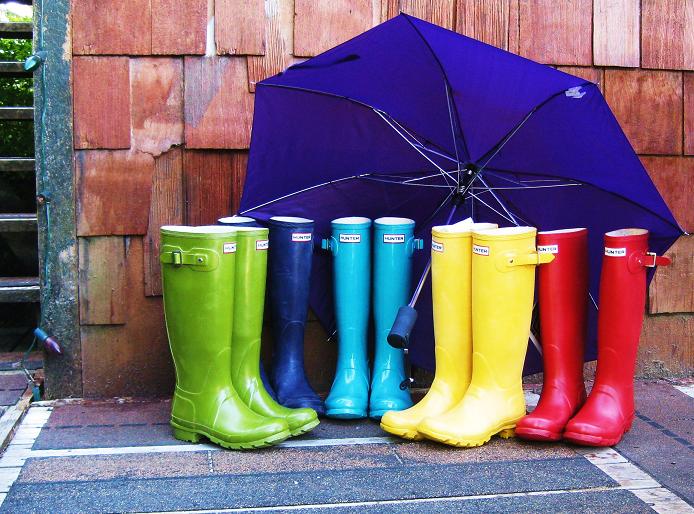 Rainboots & umbrellas are typical in Ketchikan Alaska

Wait - Does it snow in Ketchikan?!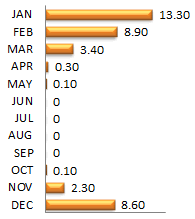 Yep!  As you can see from the temperature chart above, winter brings the cold temps, which includes snow, but only during the winter months.  
There's not typically big accumulations of snow (although it happens now and again!), it
will snow but a couple days later it's all gone, only to snow again the next day.  But amazingly you can also find sunshine & rain mixed in.
It's truly a magical place to be, even in the winter time.

So there you have it - Ketchikan Alaska weather in a nutshell.  I hope it helps! Please,
contact me and let me know if I've forgotten anything or if you have any specific questions! (But PLEASE don't ask me to tell you how it will be on a specific day!  haha...)
Here's what the Ketchikan Weather is right now....

And check out Ketchikan Webcams to actually "see" the Ketchikan Alaska Weather right now!
More Ketchikan information...