Award Winning
Smoked Salmon Appetizer Recipe
This recipe took first place in the Alaska State Ferry competition!

Canned Salmon is a staple in my household and I am always on the lookout for new smoked salmon appetizer recipes. Recently the Alaska Marine Highway System (the Alaska Ferry) held a contest for Salmon Appetizers and guess what?! This recipe won!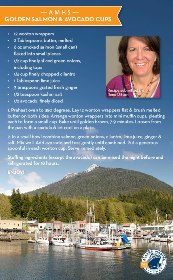 I can't tell you how excited I was to get the phone call letting me know I had won! How amazing is it for a non-Alaskan to win a salmon cooking contest....in Alaska! Not to mention the fact that I am not the best in the kitchen. So I am here to tell you, anyone can make this smoked salmon appetizer recipe! haha...
This recipe is super simple to make and is full of flavor. It's one of my go-to salmon recipies for parties and last minute get-togethers as the ingredients are normally in my refrigerator and it whips up quickly. You can make the wonton cups up to 5 hours ahead and the filling (except for the avocado) can be done up to 18 hours in advance. I usually make the filling the night before and keep refrigerated to let the flavors combine. Enjoy!
Smoked Salmon and Avocado Wonton Cups
By ExperienceKetchikan.com, Feb 8, 2011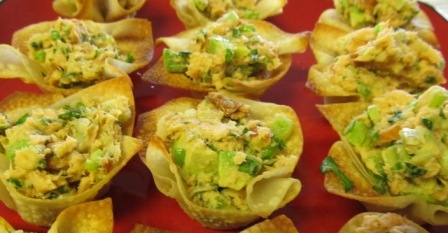 Ingredients
12           square wonton wrappers
2 tbsp       unsalted butter, melted
1            6oz can smoked salmon
1/2 cup      finely sliced green onions, including tops
1/4 cup      finely chopped fresh cilantro
1 tbsp       lime juice
2 tsp        grated fresh ginger
1/2 tsp      kosher salt
1            small avocado, finely diced
Instructions
Preheat the oven to 350 degrees. Lay 12 wonton wrappers flat and using the melted butter, brush both sides. Press into a mini muffin cup pan, pleating the wonton to make a small cup. Bake until golden brown, 7-9 minutes (watch them - they burn easily!) Loosen from the pan and cool.


In a small bowl, combine green onions, cilantro, ginger, & salt. Add lime juice & mix well. Add salmon, stirring to combine. Add avocado prior to serving and toss very gently. Spoon a generous portion of filling into each wonton cup.


Serve immediately.


More Ketchikan Information...