2019 Alaska Cruise Ship Schedule
for Alaska, Canada, & WA ports of call

Find out the details of the Cruise Ships that will be in port each day with the 2019 Alaska Cruise Ship Schedules for all ports in Alaska & Canada and even Seattle located below. The Cruise Ship Schedules show you how many ships are in port, the times they are in port, and where the Cruise Ships will be parked.  **Updated as of Oct, 2018**
2019 Alaska Cruise Ship Schedule - Alaska ports
---
What are those codes?
Find out what each of the codes stand for by clicking here.

Choose the Port of call or Glacier/Fiord you would like information on and click the link to the right to see the schedule. These are .PDF files and will open individually.
Most often visited and larger ports:
Smaller Ports: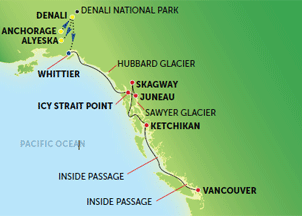 ---
Canada 2019 Cruise Ship Schedules
---
2019 Cruise Ship Schedules - Seattle, WA
---
**Please Note** These schedules are subject to change without notice.
The information is considered reliable and accurate as of the
last update, but is not guaranteed.
---
More Ketchikan Information....
---
Home  |  Ketchikan Cruise  |  2022 Alaska Cruise Ship Schedule