Live views of Ketchikan
on the Ketchikan Webcam
Looking for a Ketchikan Webcam?  You've come to the right place! You will find many of the live Ketchikan Alaska webcams right here!!  Ketchikan is such a spectacular place with stunning natural beauty and I'm you're sure to want to bookmark this page and come back often.  Check out the change of seasons! See the incredible snowfall, watch as cruise ships come and go - all on a Ketchikan Alaska cam.
KPU Webcams

KPU Ketchikan has six amazing Hi-Def Ketchikan Alaska webcams that show most of the main downtown area. Click the photo to see the live version.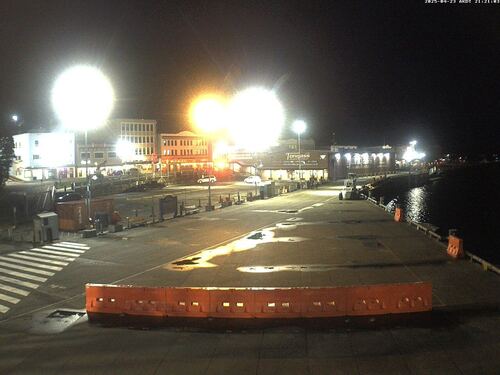 Webcam 1 looking towards Berth 1 and 2 and downtown.
This view is poised near the Berth #3 Visitor Center and looks towards downtown, Cruise Ship Berths #1 & 2, and the Tongass Trading Company.  During the Cruise Ship Season, these docks are bustling with passengers as they walk towards the downtown district.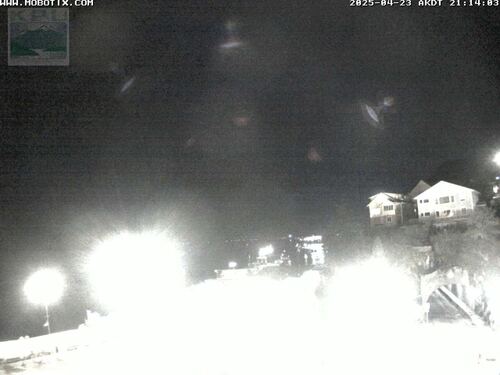 Ketchikan cam 2 is pointed opposite webcam 1 and shows berths 3 & 4
This view is just above and pointing opposite the above view. This view shows Cruise Ship berth #3 (left) and berth #4 (top right). It also looks out at Gravina Island. To the bottom right of the photo is Ketchikan's famous tunnel.  Watch this view carefully for some amazing sunsets!


Webcam 3 is pointed towards downtown to see a panoramic view of the cruise ship docks.
The third Webcam is located near the Safeway grocery store and Bar Harbor Marina and points downtown, giving you another spectacular view of the Cruise Ship Docks and City.  Watch closely as the many floatplanes dock just to the left of this webcam so you will see them coming and going, even during the winter months.  During the season you will see lots of Cruise ships coming and going, the Inter-Island Ferry (green), pleasure boats and commercial fishing vessels, and even wildlife!  Watch the mountains for the accumulated snowfall and the nighttime lights of the city are
simply gorgeous.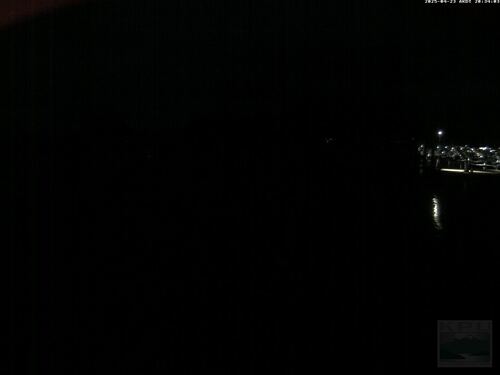 Webcam 4 looks towards the Bar Harbor Marina entrance & the Ketchikan Airport
This webcam is located near the Safeway grocery store and looks toward the Ketchikan Airport and the Bar Harbor marina entrance, Ketchikan's largest marina.  You can see big planes landing at the Airport, floatplanes landing in front of the airport, commercial, fishing, & pleasure boats cruising around, cruise ships & ferries (both the Inter-Island ferries and the Alaska State Ferries), and even wildlife!  Watch in late spring/early summer for the Eagles who love to sit on the end of the breakwall (look towards the orange post!)  Watch carefully and you'll also see the very fun
Ketchikan Duck Tour boats cruise by!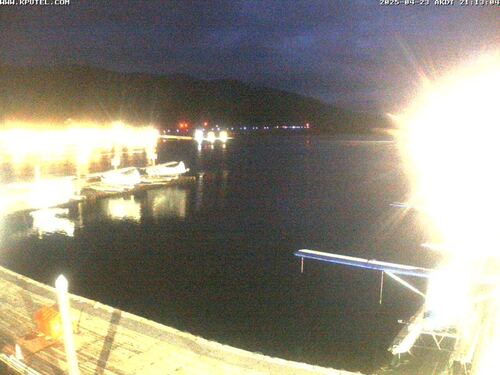 Webcam 5 looking towards the Ketchikan Airport - watch the floatplanes coming & going!
This webcam is located above Taquan Air, one of the many flightseeing companies in town, and looks toward the Ketchikan Airport.  Watch as floatplanes take off and land,
the Alaska State Ferry vessels cruise around, watch the Ketchikan airport ferry shuttle across the Narrows every 15 minutes, fishing boats, pleasure boats, barges, Cruise Ships, & more!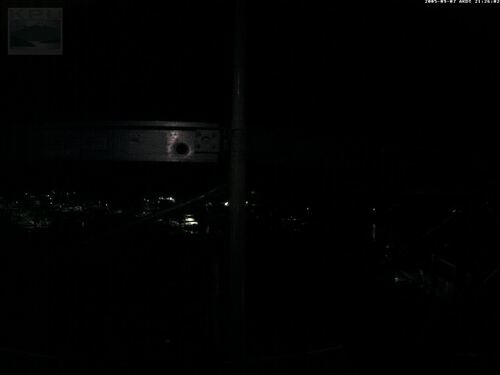 Webcam 6 looking towards Thomas Basin Marina - watch as kayakers and boats go by.
And finally, this Ketchikan webcam is located on top of the Alaska Fish House (home to some amazing fish & chips!!) and looks towards the Thomas Basin marina entrance.  During the summer you'll be able to see Cruise Ships parked at Berth #1 to the far right of the screen, you'll also be able to watch as kayakers and fishermen take off on their adventures!  This webcam is near the very fun, Great Alaskan Lumberjack Show!
Check out the Ketchikan Public Utilities website for more live views of the Ketchikan area!
Clover Pass Webcam


Another great Ketchikan webcam is located at Clover Pass Resort & RV Park - my personal favorite!
Clover Pass is a full service Alaskan fishing lodge that specializes in affordable Alaskan fishing vacations for Salmon and Halibut. They serve both fishing enthusiasts, as well as first timers, - whether it is chartering with their experienced Captains of renting a boat of your own!
Webcam looking down the docks at Clover Pass Marina

Other Ketchikan Webcams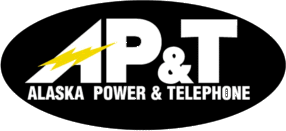 Alaska Power & Telephone provides us with one webcam that sits on top of Gravina Island (where the airport is located) and looks toward Vallenar Bay (to the northeast of Ketchikan). Forewarning, this webcam is down often - but when it's up, it's spectacular!  :-)

This webcam is on High Mountain above the Ketchikan airport, looking over Vallenar Bay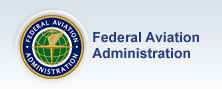 Had Enough?!  :-)  If not, the Federal Aviation Administration has four amazing Ketchikan Alaska webcams at the Ketchikan Airport and many more located throughout Alaska. 
Bear Cam Webcam Katmai National Park, Alaska


Okay, admittedly this is NOT a Ketchikan webcam....BUT it's so very cool I just had to include it!  This is a webcam compliments of Explore.org, Alaska that has an amazing view of the Brooks Falls in Alaska's Katmai National Park which is arguably the best place in the world to watch brown bears feasting on salmon as they swim upstream to spawn. (Ketchikan has black bears, not brown bears).

Cruise Ship Webcams


And just for giggles, did you know that most of the Cruise Ships that visit Ketchikan have a Cruise Ship webcam on board?  Yep!  Check out the Cruise Ship webcams below and see if you can guess where they're currently located!

I hope you enjoyed all of the Ketchikan Alaska webcams!  Be sure to come back often as the view is always changing!  And if you know of a Ketchikan webcam you think I should include (or one is down!), please let me know!  And please, send me a Facebook note to let me know if you've enjoyed the webcams!!
More interesting Ketchikan pages...