Ketchikan Alaska Free Trip Planner

The free trip planner provided by the Ketchikan Visitor's Bureau makes planning your visit to Ketchikan painless. Because, let's be honest, planning a trip can be overwhelming! Whether you are visiting for a couple hours or a couple weeks, the Ketchikan Alaska vacation planner will help you decide what to do, where to stay, & details you need for your stay!
The best resource for Ketchikan & Southeast Alaska Visitor Information!

The KVB's free trip planner


The Ketchikan Visitors Bureau is an exceptional resource when planning your visit to Ketchikan Alaska and when you arrive in town! The outstanding staff answers questions and provides visitor information about tours & attractions, transportation to & from, and everything in between, including providing you a free trip planner!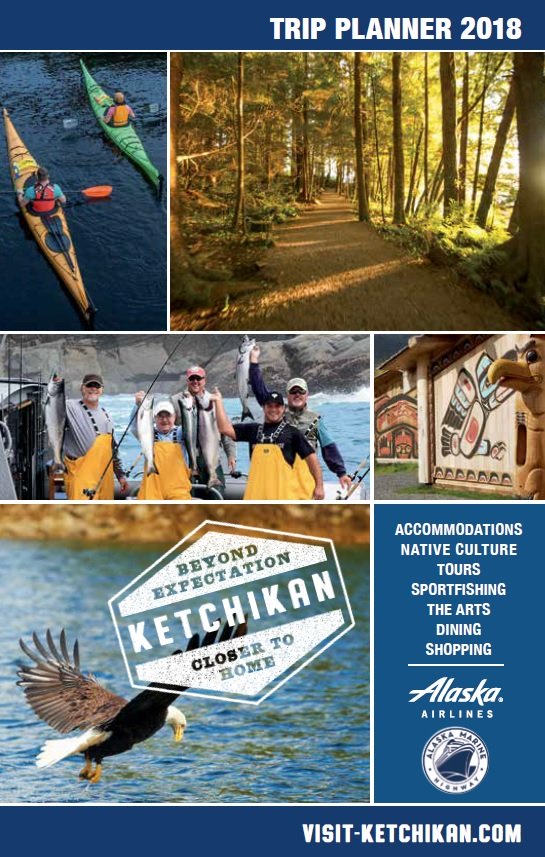 One of the amazing resources they provide is the Ketchikan Area Guide, available both online and in printed form available at both Ketchikan Visitors Bureau Tour Centers (located next to Berth #2 and #3).

You can also request a free trip planner be mailed to you.
The guide is packed full of visitor information! From contact information on the many Ketchikan tour operators, to accommodations in the area, sportfishing calendars, transportation in & around Ketchikan, weather, and
even what to pack for your visit!
There are two Ketchikan Visitor Information Centers in town, the largest one is located on the dock at Berth #2, the other one at Berth #3. Inside both buildings are helpful, knowledgeable staff who can provide you with copies of the Free Walking Tour Map and the Area Guide. Both guides are essential during your visit!


The largest Ketchikan Visitor Information Center, located at Berth #2, is home to the famous 'Liquid Sunshine Gauge' (a great place to take a photo and a meeting spot for many tours). It is a gorgeous wooden building with a green metal roof, on the dock side of the street, you can't miss it!
Inside there are two Visitor Information kiosks with friendly & informative staff, a bank of pay phones & an ATM machine, a courtesy phone for local car rental agencies & hotels, clean public bathrooms, a wall of brochures, and a room of individual Tour booths where you can purchase tours & excursions.


Tour operators inside the Ketchikan Tour Center include:
The Visitor Information Center located at Berth #3 is a smaller area but also has a staffed information kiosk along with a wall of brochures. It is located just beside the public bathrooms at Berth #3.
Visit their website and be sure to check their Special Offers page for discounts and special offers. And a visit to the site wouldn't be complete without viewing the AMAZING videos about life in the area that are magnificent! Such as this one...a teaser! There are more than 100 available so be prepared to be mesmerized!

Southeast Alaska Discovery Center


Another phenomenal resource when planning your Alaska vacations is the
Southeast Alaska Discovery Center.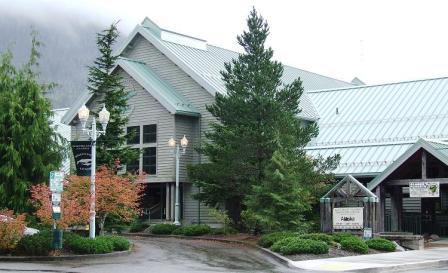 The Southeast Alaska Discovery Center

The Southeast Alaska Discovery Center is one of four Alaska Public Lands Information Centers which is a collaboration of nine agencies including the National Park Service, U.S. Forest Service, Bureau of Land Management, Alaska Department of Fish & Wildlife, Alaska Department of Natural Resources, and more.
What does that mean exactly?
It means they can provide you information, education & literature, help you with reservations for cabins, campgrounds, hiking trails, kayaking, wildlife, botany, fishing, & hunting in Southeast Alaska. Think of them as your personal Alaska Vacation planner!
More Ketchikan Information...
Top of Page