Ketchikan Alaska Zipline Tours
An exhilarating experience!

Incredible! Awesome! That's what I said after my experience with the zipline tours in Ketchikan Alaska.  While I started out nervous and anxious about what I was going to do, I ended up walking away with a perma-smile and a love for ziplining in Alaska!
An exhilarating experience!

After being in Ketchikan for a couple years, I had the opportunity to go ziplining and jumped on it!  Knowing that the Zipline Tours were voted as the number one tour for 5 years in a row, I was really excited to learn what the big deal was!  :-)  I quickly learned why the ziplines are such popular Ketchikan Alaska tours!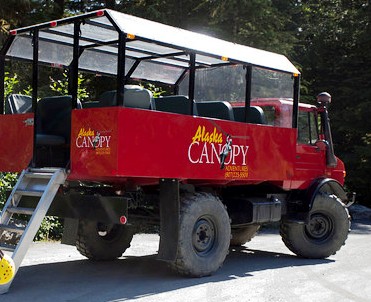 Beginning at the Cruise Ship dock, I boarded an old school bus type transport and travelled through town and out to the site, about 8 miles south of downtown Ketchikan.  The driver chatted with the group about the area and pointed out highlights during our drive.  When we arrived at the site of the Ziplines, everyone turned in their release forms & we boarded a fun 4x4 Unimog vehicle that powered up & around the hills to get us to the top of the zipline course.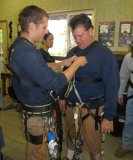 We stopped at the top of the road & assembled inside the gear shack to meet our sensational guides and be fitted with our safety harnesses, gloves, & helmets. 
Our tour guides were exceptional at explaining everything and ensuring our gear was fitted perfectly.  Safety was definitely the #1 priority as was getting everyone excited to get started!
Next up, we were taken outside the gear shack, our guides splitting us up into groups of no more than 9, and showing us in detail exactly how to go ziplining!  They explained the perfect position (in our sitting harnesses!), how and where to position our hands, and what not to do!  Oh how he made it look so easy!  haha...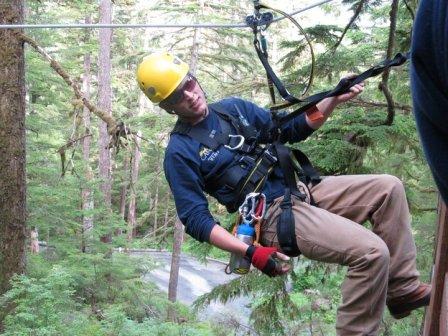 And then it was our turn at the practice zipline.  I'll be honest, my heart was beating through my chest and I had a hard time remembering everything - where do I put my hand again? 

But our guide was incredibly calm and went over any detail I missed before letting me gooooooo...... :-)  And just like that - wheeeee.....  I was zipping to the next platform!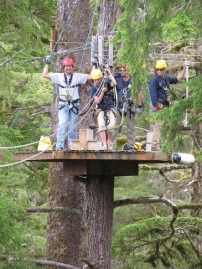 Thankfully, Mike (one of the two tour guides) was waiting for me and coached me through the stop.  Woohoo!!!  I made it!!  That was simply incredible!!

What a feeling - I know I was smiling ear to ear!  Even if it was a mere 40 feet!  haha...
We went on the Eagle Creek Zipline which had a total of eight ziplines & ten tree platforms up to 135 feet above the forest floor and over 700 feet long!  The zipline tours start short and gradually get longer to let you build up your confidence, which helped significantly!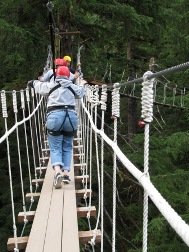 We also traversed 3 suspension bridges which were a hoot!  It was so incredible to be walking among the top of the trees!  Spotting eagles & other birds all while on the lookout for bears below at Herring Cove.
Our guides discussed the trees, rainforest, & surrounding area, how the zipline was built, how it is inspected & maintained, experiences in the area, and so much more!
They were great at making us feel comfortable - remembering everyone's names & engaging us in conversation, picking up right where we left off after catching us on the platforms.
The sights & sounds of the zipline tours I will never forget are the sound of the wind rushing by, the whine of the zipline as you fly to the next platform, the treetops,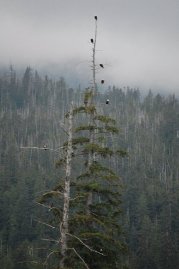 The wildlife (how many eagles do you count?!),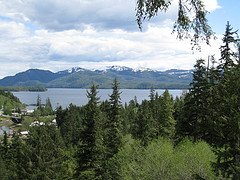 The sensational views
and of course, that exhilarating feeling of simply letting go and flying!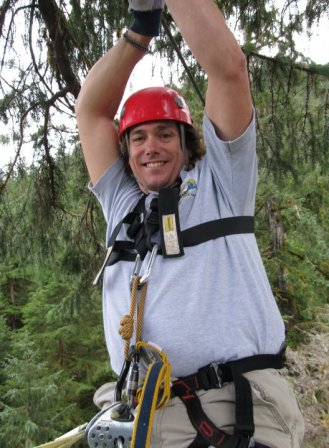 There's nothing quite like it and you can't help but have a HUGE smile on your face when you finish!!  (And this from a guy who has a fear of heights!)
At the conclusion of our tour, we were all awarded with red medals - proof that we made it!  We were also invited to wander through the lovely gift shop with all kinds of goodies inside; T-shirts with the 'Eat Sleep Zip' logo on it, hats, keychains, mugs, you name it!  We were also treated to hot coffee, cocoa, & cookies - what a treat! 
Outside the gift shop was also a handful of gorgeous Totem Poles, the perfect backdrop for a group photo!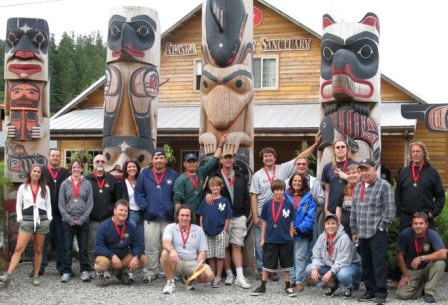 There are two Zipline Tour Companies in Ketchikan Alaska.  This write up was about the Alaska Canopy Adventures and I am incredibly happy with my choice.  I was lucky enough to go on a dry day but on those rainy days they provide rain gear.
There are two zipline courses at Alaska Canopy Adventures - the Eagle Creek zipline with 8 ziplines, 3 suspension bridges, & ten tree platforms and the Bear Creek Zipline which is a little tamer & built for first-time zipliners & families with smaller kids.
The Bear Creek Zipline has 7 ziplines, one suspension bridge over a waterfall, a rappelling station and a 250-foot mountain slide!
Southeast Exposure is the other zipline tour company in Ketchikan and offers the Rainforest Canopy Ropes & Zipline Park. This park has 7 gravity ziplines, a 50ft climbing tower, rappelling, & suspended log bridges to cross. Different from all other zip experiences, you can swing, scramble, climb and glide on suspended cables through a unique rainforest adventure park.
Update:  I recently had an amazing time at the Southeast Exposure Zipline Park!  The experience was much different from the larger Ziplines listed above
but so much fun!  I ziplined through the forest while being guided by fun and attentive tour guides.  I zipped out over the water, took in amazing views along the coastline, and even had the opportunity to try out the climbing wall (and I made it to the top!!)  It was a wonderful experience and I am only bummed I did not have an opportunity to test out the kayaks as well.
The Ketchikan Alaska Zipline Tours were phenomenal – a truly exhilarating experience, one I will not soon forget!
How to buy tickets
You can purchase tickets to the zipline a couple ways: 
1.  You can purchase them through your Cruise Ship. 
2.  You can contact the company direct.
3.  You can buy them below through Viator, a TripAdvisor affiliate.  Enjoy!
More Ketchikan Information...
Top of Page
Home  |  Ketchikan Tours  |  Zipline Tours