The Best Ketchikan Restaurants
Drumroll please! The best Ketchikan Alaska restaurants...
As you can imagine, Ketchikan Alaska has no shortage of amazing Ketchikan restaurants, sure to please your palate! Whether you're looking for the best bowl of Clam Chowder, Fish-n-Chips, King Crab Legs, or simply a Burger, Coffee, or glass of Alaskan Ale you will not be disappointed in any of our recommended Ketchikan Alaska restaurants.
When we first arrived in Ketchikan we opened up the yellow pages and counted the number of independent restaurants (no chain restaurants for us) and counted about 30. Our journey began, in search of our favorite restaurant in Ketchikan Alaska! Since then we've eaten at every one of the Ketchikan restaurants multiple times and have some definite favorites; those who have impressed us not only because of the quality of their food, fresh ingredients, & flavor, but also the overall dining experience, exceptional service, and great ambiance.
You'll be surprised when I tell you that our favorite restaurant in Ketchikan is Chico's Mexican Restaurant – home of the best pizza in town!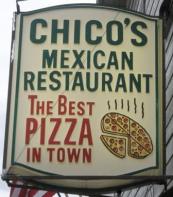 Chico's Mexican Restaurant
our pick for the best of all the Ketchikan restaurants
Surprised?! A Mexican restaurant? Not a Seafood restaurant? Yep…for exactly the reasons I've listed above – incredible food, personalized service, and some of the nicest people in Ketchikan. Chico's also falls in the category of the cheapest eats in Ketchikan.
Chico's has an incredible lunch special, with all items under $10. Mexican Lunch Specials (my favorite is the Chile Relleno), Sandwiches, Greek Sandwiches (the Gyro Plate is incredible!) & Pasta are on the special menu but you're also missing out if you don't try at least one of their amazing pizzas. Our favorite is the "House Special". My mouth is watering as I type this! I know what I'm having for dinner… haha!
Our first experiences to Chico's were when my husband and I would meet for lunch after work. Chico's is conveniently located in downtown Ketchikan, a mere 5 minute walk from the Cruise Ship docks.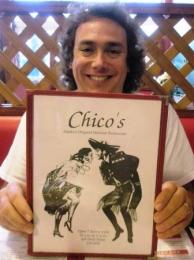 Since our first experience we have been back numerous times and have never been disappointed. Patricia & Chico, the owners, greet us as we enter and always remember our drink orders & have an idea of what we're going to eat. The food is fresh & tasty - always.
We've celebrated birthdays there and have been entertained by Patricia as she sings (she has an amazing voice!) and plays her guitar while a group of Cruise Ship Crewmembers sing along. It's a favorite for the crew of the Cruise Ships and is such a friendly place, it's not unusual to strike up a conversation with the people sitting at the next table.
Chico's can be found at 435 Dock St, on the same street as the library. Their phone number is (907) 225-2833.
Chico's Mexican Restaurant is a must if you are looking for a great meal during your visit to Ketchikan and is at the top of our Best Ketchikan Restaurants list.
Ketchikan Restaurants - Honorable Mentions
Ketchikan Alaska restaurants come in many choices and variety of cuisines and each of those listed below have their own unique quality. Listed below are our remaining favorite Ketchikan restaurants, in order of preference:
Ocean View Restaurante ($$$) Home of the best Margarita in Ketchikan! Ocean View has both Mexican and Italian food on the menu and has an incredible view of the Tongass Narrows. The food is always good and the Margaritas are killer (though pricey). A great waitstaff & live music just add to the great atmosphere. When you make reservations, ask to sit by the window.


Annabelle's Keg & Chowderhouse ($$) In the heart of downtown inside the Gilmore Hotel with some of the best seafood chowder in town, Annabelle's is sure to impress. They have two separate areas, an upscale bar area with a relaxed feeling (smoking-welcome) and the opposite area a nice, sit down, non-smoking area. Annabelle's suits anyone whether you're looking for a draft beer, a quick clam chowder, or a luxurious evening meal of King Crab Legs. My favorite? Ginger crusted salmon....or the Seafood Chowder get the recipe here!


Bar Harbor Restaurant ($$$) Nestled among the Bar Harbor Marina with both inside and outside covered & heated dining. The food is elegant and top quality, their wine selection is one of the best on the island, and it's a perfect, cozy spot for catching up with friends. They're open during the summer for dinner only. Call ahead for reservations.


Alaskan Surf & Seafood ($) The sister to Bar Harbor Restaurant, during the summers this great shack is located on the Cruise Ship Dock right next to the Visitor's Bureau. They are known for their many varieties of fish & chips and chowders. There are a couple picnic tables in front of the shack for you to sit along with other diners. We could eat here every day...it's a perfect lunch and incredibly flavorful!


Cape Fox Lodge & Restaurant ($$$) Located high on the side of the hill, Cape Fox has a panoramic view of the downtown area and is one of the few luxury Ketchikan restaurants in town. Take the funicular up to the restaurant from Creek Street and enjoy breakfast, lunch, or dinner! A bit pricey and honestly it took me a few meals to find something on the menu I loved but now it's one of our favorites.


Polar Treats ($) Whether you are craving an Ice Cream, Espresso, or more importantly a scrumptious sandwich, wrap, or panini, Polar Treats will not disappoint. My favorite is the panini with turkey & cranberry sauce. Yum!! A delectable eatery, they are not the least expensive sandwiches you'll purchase at the many Ketchikan restaurants but they are the most filling! Most of the time my husband and I split one, they're that big.


Thai House ($$) Although you enter the building from the main street, head to the back and you're rewarded with a view of Ketchikan Creek with salmon swimming below! When you're craving Pad Thai or any Thai cuisine this is the place to go. They always amaze with great food & excellent service.


Dockside Galley ($) Take a drive North to Knudsen Cove where you will discover a relaxed & breezy diner serving scrumptious burgers, sandwiches, & shakes. But the best is served for desert...fresh baked homemade pies that will rival your grandmother's! These are easily the best pies on the island. Ask to purchase the entire pie, sometimes they'll allow it and it will cost you less than per piece. Our first visit was with the Ketchikan Kruiser's and it was love at first bite!


The Point ($) Oh my...their daily soups & sandwich or soufflé specials are simply mouth watering. I'm embarrassed to say I was introduced to them by a visiting tourist's request to go there! I had no clue what she was asking about and made it my mission to find out. Wow...what a place! It shares space with The Point art gallery that I believe is the best on the island.


Shogun Restaurant ($$) Quite simply the best sushi in town. Located right along the ocean you are treated with fantastic sushi and incredible views of boats big & small cruising along the Narrows.


Burger Queen ($) Because 'Burger Bitch' didn't sound quite right! haha... Quite honestly the Best Burger joint of all Ketchikan restaurants. Burgers, fries, onion rings, & shakes, yep, you'll find it here. There is very limited seating but it usually takes a while to get your food and by that time a booth may open up.


Good Fortune Restaurant ($) Located right along Ketchikan Creek on Creek Street. Chinese food is what they do, and do it well! Head upstairs when you arrive for the best seats.


Jeremiah's ($$) Conveniently located across the street from the Ferry Terminal, Jeremiah's is attached to the Best Western Hotel and is a Denny's style diner. The food is decent as is the service. It's not my favorite of the Ketchikan restaurants but is very conveniently located and my husband likes it!


Sushi Harbor ($$) Conveniently located just across the street from Whale Park in downtown Ketchikan. They have great sushi and the service is excellent. Roll sizes are average, not big and not the tiniest I've ever paid for!


Alaska Fish House ($$) Another GREAT place for fish & chips, fish burgers, chowder & tacos! And it couldn't be easier if you're going to the Great Alaskan Lumberjack Show as it is located right next door! There are picnic type tables inside for those cool days and the view can't be beat since you're right on the water! This is one of the fantastic Ketchikan restaurants!


Fish Pirate's Restaurant & Saloon ($$) One of the newest restaurants in town but very conveniently located at Berth #2 in downtown. They have just about everything on the menu that you could possibly want - from burgers, tacos, chowders, & fish-n-chips to delicious Salmon entrees, King Crab and Dungeness Crab meals.


---
Visitors to the Ketchikan Restaurants page may also be interested in the following pages:
Ketchikan Employment - Seasonal Jobs, fishing jobs, & employment in the Ketchikan Area
Ketchikan Cruise Ship Calendar - Cruise Ship Calendars for Alaska
Ketchikan Cruise - Cruise ships that come to Ketchikan Alaska