The Best Seafood Chowder is at
Annabelles Restaurant!
Conveniently located at the Gilmore Hotel in downtown Ketchikan Alaska
Annabelles Restaurant, located in downtown Ketchikan Alaska just beside the Gilmore Hotel, is home to the best seafood chowder in Alaska, not to mention it is one of the best seafood restaurants in all of Alaska. Be sure to check out Annabelle's Seafood Chowder recipe while you're here too!
Smoking or Non-Smoking, Tavern or elegent Restaurant seating - it's all here at Annabelle's Restaurant!
At Annabelle's you get two places in one. Depending on your taste in restaurants or your wishes during your meal, you get your choice!
You enter through one door and are faced with two choices, right or left?
On the left hand side of the building is a roman tavern type bar with a uniquely beautiful, massive carved wooden & brass bar on one wall. The bar sparkles with golden taps of Alaskan Ale (Mmmm....) and any other spirit your heart desires and is in front of beautiful mirrors. There are wooden tables and chair dotted throughout the rest of the room if you do not wish to sidle up to the bar.
The Tavern bar at Annabelles Restaurant in downtown Ketchikan Alaska
Or choose the door on the right and you will find a fine-dining type restaurant with lovely booths lining the walls, antique lighting, & a non-smoking environment.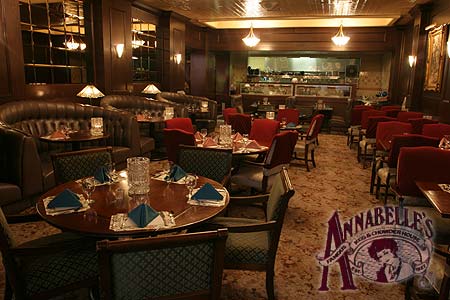 One of our favorite Ketchikan Restaurants, Annabelle's Restaurant is gorgeous!
Whew! The easy part is over. Now comes the tough part - choosing what to eat!
No matter where you choose to sit at Annabelles Restaurant, you have the same menu options which are either presented to you on an antique-looking newspaper from 1927 (from the bar area) or a traditional menu. By the way, the newspaper menu can be taken home for a souvenir of your visit and they sell pint glasses and t-shirts as well.
You are given a wide variety of options, from crab legs to smoked salmon chowder, fresh halibut & chips to crab macaroni & cheese, salads, soups, scrumptious appetizers & cold Alaskan ale on tap.
Their fresh seafood selection is huge - with King Crab Legs, Salmon, Halibut, & Prawns. Of course if you're looking for a burger or a quesadilla you can find that here as well. Chicken, pasta, sandwiches, yep they got 'em!
Quite simply, I have never had a bad meal at Annabelles Restaurant! Everything on the menu is tasty, the beer is always ice cold, and the wine selection is ample. The prices are pretty average for one of the best Ketchikan restaurants. Be prepared to wait either for a table or for your food when you arrive during the rush on a big cruise ship day as they are very popular and fill up quickly.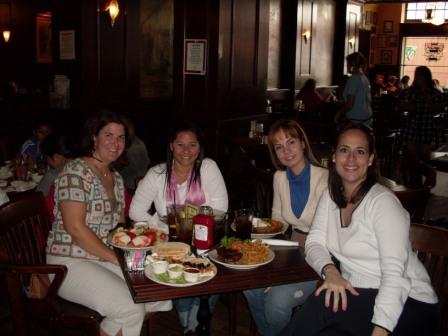 Girls lunch at Annabelle's Restaurant - yum!
I personally love to go to Annabelle's for lunch with friends as I never tire of the variety of choices and enjoy the laid-back ambiance of the bar area. My personal favorite is the salmon spinach salad or the Seafood Chowder. See you there!
Annabelles Restaurant is perfect for every situation - whether you are looking for a nice bar for a cold beer, a simple bowl of seafood chowder, a large lunch platter, or even a sit down full dinner.
---
Visitors to the Annabelles Restaurant page may also be interested in the following pages:
Totem Poles in Ketchikan - Details of the Totem Poles in the downtown Ketchikan area
Cruises to Ketchikan - The many Cruise Ships that come to Ketchikan Alaska
Ketchikan Employment - The type of Jobs available in Ketchikan Alaska