'View Totem Poles' must be on your
Things to do in Alaska list!
Totem Poles, Totem Parks, & Museums

Choosing from the many things to do in Alaska can be a chore as there are so many wonderful things to discover! But one thing not to be missed is viewing the incredible Alaska Native Art and Native American Totem Poles. And Ketchikan Alaska is the place! It has the world's largest collection of Totem Poles and they are easily found in the downtown area, in museums, & totem parks!
Things to do in Alaska - Totem Pole Parks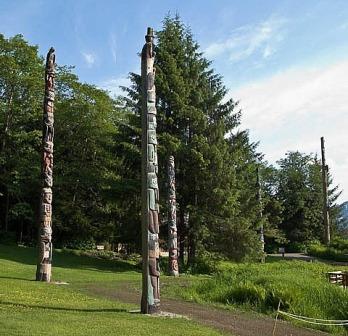 Just a few of the Totem Poles found at Totem Bight
Totem Bight State Historical Park - Totem Bight State Park is located on the North end of town and is home to 14 Native American Totem Poles in addition to a Clan House, a short walk through the rainforest, a Visitor Center, and an ocean view out to the mainland. Easily toured on your own or with a guided tour. $5 admission charge. 
Potlatch Park - Potlatch Park is located right beside Totem Bight (literally!) and also has Totem Poles, a gorgeous clan house and several smaller houses with absolutely stunning carved panels & Alaska Native art, a carving shed with carver inside, antique firearm museum & antique car museum! No admission charge, easily toured on your own or with a tour. 
Saxman Native Village - Saxman Native Village is on the South end of town and features approximately 24 standing Totem Poles, a Clan House, and carving shed. Tours to Saxman Native Village include a show featuring native dancing in full regalia. Is best toured with an organized tour and there is a small admission charge.
Downtown Totem Pole Locations

Though the Totem Pole parks are amazing, you don't have to go far to spot Totem Poles in Ketchikan! Viewing totem poles around town makes for inexpensive (some Free!) things to do in Alaska!
Totem Poles in downtown Ketchikan

- There are about a dozen Totem Poles easily spotted while walking around Ketchikan. Free to view! Don't forget to download your

Free Walking Tour Map

too!



Totem Heritage Center

- The Totem Heritage Center is home to many original, unrestored Totem Poles rescued from abandoned Native Villages. It is a fabulous place to see Alaska Native art at it's best and not only Totem Poles, but also masks, regalia, blankets, and photographs. Small admission fee.
Southeast Alaska Discovery Center

- The Southeast Alaska Discovery Center is so much more than a place to view Totem Poles but there are three poles in the entryway, representing the three Native Tribes in the area. A small fee to enter, however, Totem Poles are viewed free of charge. 

Cape Fox Lodge

- Cape Fox Lodge is one of Ketchikan's premier

Hotels

but is also home to a collection of totem poles, masks, carvings, baskets, & more! Free to view (one of the inexpensive things to do in Alaska)!
Totem Pole History & Legends

- Read all about the different types of Native American Totem Poles, the history & legends, how a Totem Pole is carved, the tools used, & more! This is the perfect introduction to Totem Poles & Alaska Native Art.


With so many things to do in Alaska, viewing gorgeous Native American Totem Poles should be somewhere near the top of the list! And there's no better place to find them than in Ketchikan Alaska! Come check them out and let me know what you think!
More Ketchikan Information...