Ketchikan's best-kept secret for Native American Totem Poles & Artifacts?
The Cape Fox Lodge in downtown Ketchikan!

Who would have guessed that some of the best Native Indian artifacts & Native American Totem Poles are found at Cape Fox Lodge! Cape Fox Lodge is known for being one of the premier hotels and luxury restaurants in Ketchikan but what most people do not realize is that they also house a gorgeous, 6 Totem Pole circle outside, a Totem Pole and Totem Carvings inside the lodge, and a large collection of Native Indian artifacts such as tribal masks, Native American clothing, pictures of totem poles, jewelry, hand-weaved cedar baskets, tools, knifes, bentwood boxes, & more that are some of the best in Ketchikan! And the best part?! There is no cost to see this incredible collection! Even better!
Getting to Cape Fox Lodge is half the fun!


Cape Fox Lodge is located high on a hill overlooking downtown Ketchikan and is easily accessed from Creek Street, Married Man's Trail, or a longer walk up Venetia Way - all three which are found on the Downtown Ketchikan Walking Tour! The Cape Fox Funicular is found on Creek Street and provides a quick ride up to the Lodge for a small fee. (This fee is waived if you eat at the restaurant, FYI!)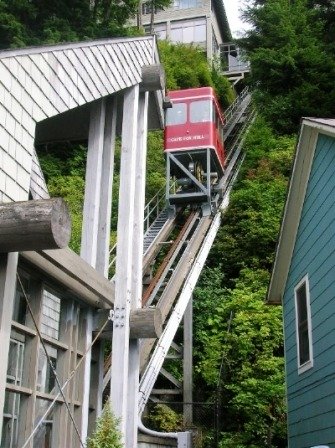 The Cape Fox Lodge Funicular in Ketchikan Alaska

If the Funicular is not your style, you can walk just a few more yards along Married Man's trail where there is a staircase nestled among the trees that you can climb that will take you to the front doors of Cape Fox Lodge. Or last but not least, if you're in need of a little exercise after all the wonderful food from the Cruise Ship, you can walk up Venetia Way which will get your heart pumping!
Native American Totem Poles:
Council of the Clans Totem Pole Circle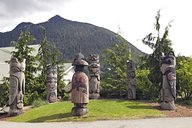 This Totem Pole circle was created & carved by Lee Wallace. It has 6 Native American Totem Poles that stand in front of Cape Fox Lodge and represents the culture of the Northwest Coast peoples. These totem poles are often missed since they are not identified on the Ketchikan Walking Tour Map. Shhhh.....they'll stay our little secret! ;-)

Pole #1 is Raven Stealing the Moon and Stars. This full-rounded totem depicts Raven grasping the moon. On the side, you see a trailing constellation of the Little Dipper - a personal note for Lee's son whose Navajo name is "Little Dipper Man".
Pole #2 is Raven Stealing the Sun. This flat housepost has a female face inside on the bottom, a halibut, and a beaver. On the top, Lee has placed mirror in the Raven Stealing the Sun in hopes that those admiring the Totem Circle would reflect on where they came from, their people, their clans, their houses, & their lives.
Pole #3 is The Brown Bear. Raven and Eagle are carved into the paws of this bear and if you look at the cub's behind, you'll notice a small carved heart which was placed there because Lee's daughter loved 'Care Bears' when she was little.
Pole #4 is The Eagle. Another flat house post totem, this one directly across from the Raven pole. It's as if the faces are looking at each other and asking "Why are you?". On the top of the totem is an Eagle and Eagle Dancer. The wings of the eagle have inlaid mother of pearl buttons. Below that are the Wolf and Killer Whale, and a U-shape with a male face inside.
Pole #5 is The Eagle and the Giant Clam. There is an old story about a young Eagle who had been soaring in the sky. His arrogance and pride told him he could handle a giant clam but ultimately lost his life trying to pick up the giant clam.
Pole #6 is The Naa Kaani Pole. The male figure is wearing a traditional button blanket and hat and holds a speaking staff. During ceremonies at potlaches a Naa Kaani figure mediates and brings order to the festivities.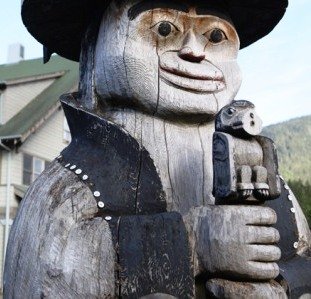 The face of the Naa Kaani Native American Totem Pole at Cape Fox Lodge
Alaska Native Art & Indian Artifacts


Located inside the lobby, to the right and left of the reception desk as well as up the stairs to the mezzanine level are countless Native Indian artifacts including Native Indian Masks, gorgeous beaded Native American clothing & jewelry, Cedar Baskets of all shapes & sizes, Bentwood Boxes, Tools & knifes that will simply amaze you! There are additional Native American Totem Poles and Totem Pole Carvings displayed among the lobby & on the walls.
A stop at the Cape Fox Lodge is the perfect addition to your Ketchikan Walking Tour and is a great place to see the finest Native American Totem Poles and Alaska Native Art in Ketchikan! But remember - it's our little secret! :-)
More Ketchikan Information...
Home  |  Things to do in Ketchikan  |  Cape Fox Lodge Totems