The Best Totem Park for
Native American Totem Poles
Potlatch Park is the top Ketchikan Totem Pole park!


My absolute favorite Totem Pole Park in Ketchikan to View Native American Totem Poles is Potlatch Park. Inside the park you will find not only incredible Totem Poles but also Alaska Native Art, a huge collection of antique firearms, an antique car collection, and an excellent gift shop with some of the best deals on souvenirs & authentic totem poles! But the best part about this Ketchikan Alaska attraction is the Carving Shed where you get to meet the totem pole carver! There is nothing in this world like seeing a totem pole being carved up close. It's simply awe-inspiring!
Meet Brita, the Totem Pole Carver at Potlatch Park and See Native American Totem Poles being carved up close!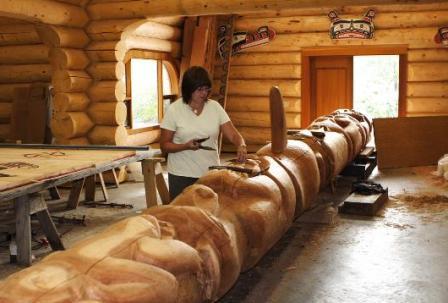 Brita is the carver of Native American Totem Poles in Ketchikan Alaska
When I first moved to Ketchikan, I felt it was my duty to see all of the Native American Totem Poles in town. After all, Ketchikan has the largest collection in the world! So I did....and while they were interesting, I didn't fully appreciate them until I met Brita and was able to see her Carving Shed where she was in the midst of carving a large Totem Pole.
When I first walked into the Carving Shed I took a deep breath as the gorgeous scent of freshly cut cedar overwhelmed my senses. I don't think there is anyone who has not walked inside and didn't mention how good it smelled in there! And the Carving Shed is absolutely gorgeous itself!
The second thing I remarked about was how it was SO BIG!! haha... But literally, the Totem Pole she was working on was only about 34 feet tall but it took up most of the length of the carving shed. Then I began to look closely at the Totem Pole and noticed a million marks. It wasn't until she was explaining how Native American Totem Poles were carved that I realized that each of those marks were hand-made!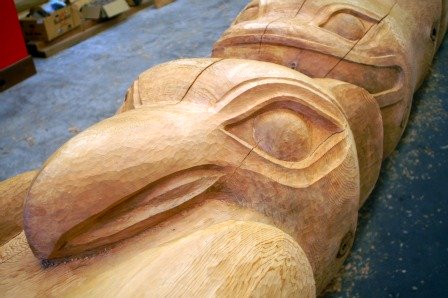 Look at the marks on the Eagle and Whale, those are all hand done!
I learned about the History of Totem Poles, a couple of Totem Pole Stories, how she makes her own totem carving tools, how she designs the Totem Poles, how long they take to build, how the paint used to be made, how the logs are chosen, how the Totem Poles are raised upon completion, and the Potlatch that accompanies a Totem Pole raising. And so much more!
Being able to see the entire Totem Pole while it is laying down was an eye-opening experience. Not to mention the honor of meeting one of the very few female Totem Pole carvers (and a left-handed one at that!) and listening while she answered any and all questions. It's an experience not to be missed!
Inside Potlatch Park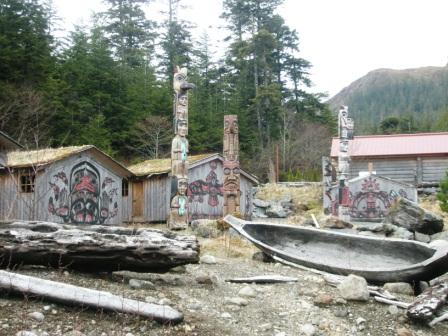 Gorgeous Native American Totem Poles, Clan Houses, & more await you!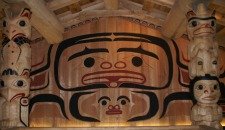 Inside the park is a large Clan House (tribal house) with several smaller tribal houses alongside. Each tribal house has elaborate wall carvings both inside and out. The main Clan house has four differently carved house posts, as well as a huge wall carving of a mother bear and her cub.
On the opposite wall is a large Thunderbird carving and there are several other carvings both inside and outside the house of Raven, Killer Whales, Wolves, and Eagle. These carvings are absolutely gorgeous!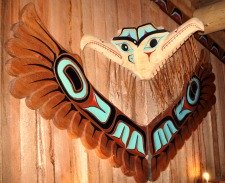 There are a few smaller tribal houses that you can walk through but most are decorative only. Be sure to walk inside the house that was used as a smokehouse - the smell of smoked cedar will certainly make your mouth water!
The park has gravel walkways and native trees surrounding the park. I loved being able to pick wild huckleberries & salmonberries located right alongside the main path into the park! And be on the lookout for the carvings of wolves scattered throughout the park. They are startlingly real!
Our Guide even pointed out an active Eagles Nest located just above the gift store and we stood with binoculars in hand watching as the adult eagles swooped in and out of the nest. It was WAY cool!
Antique Car Museum


At the bottom of the park is an Antique Car Museum with a handful of fabulous cars from the early 1900's. I particularly liked the Bantam - Donald Duck's car! A 1924 Stanley Steamer car is also inside and arranged so you can see the inner workings of the car as is a 1934 Ford Coupe, but these are just to name a few!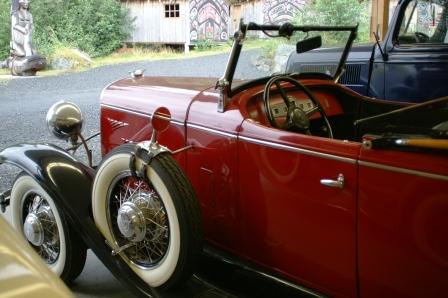 Antique Firearm Museum


Located just inside the Alaska Totem Trading Shop gift shop at the top of the park is the Antique Firearm Museum where there are some truly amazing firearms. While firearms aren't my forte, I still marveled at the Gatling Gun, weapons with truly unique bullets, a whaling harpoon, numerous authentic ulu knives, and fascinating pistols. But what I loved the most about the room were the stuffed animals or hunting trophies. There is a gigantic moose, deer skins to feel, bear skins, wolves, and lots of Alaskan Wildlife inside the room. Pay attention when you enter the room as you have to walk underneath Whale Baleen which is what lines a whales mouth and allows them to filter feed!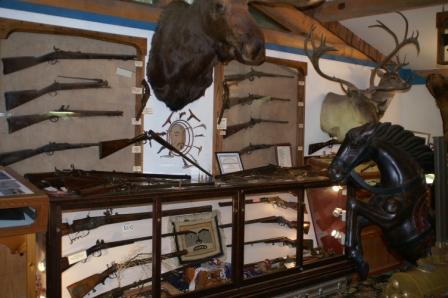 As I said before, Potlatch Park is my favorite Totem Pole Park to see Native American Totem Poles, but to simply say the park has Totem Poles is such a discredit! The Antique Firearms & Antique Car Museum are both awesome on their own but the gift store really goes above and beyond and offers the best prices in town on trinkets, souvenirs, totem poles, clothing, & gifts. And they give out FREE hot coffee and hot chocolate and cookies! This is one of the Ketchikan Alaska attractions not to miss!
More Ketchikan Information...
Home  |  Things to do in Ketchikan  |  Potlatch Park