Ketchikan's best fish and chips restaurant is at Alaskan Surf!
Located on the Cruise Ship dock
If you're hunting for the 'Best Fish and Chips restaurant in Ketchikan' Alaskan Surf Halibut & Chips is the place to go!
The Best Fish and Chips Restaurant and Clam Chowder in Ketchikan is at Alaska Surf!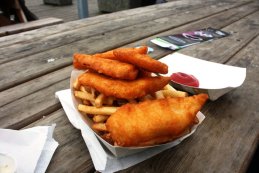 You know the kind I'm talking about, the kind of fish & chips that melt in your mouth, are not greasy, have a light, delicious beer batter, with fresh, flaky halibut inside...
And crispy chips that will soon become your favorites...
Mmmmm....yep, look no further than Alaskan Surf Halibut & Chips located right alongside the cruise ships!
This is one our most favorite spots in town for lunch. My husband and I commonly eat here as it is fresh, convenient, and super yummy!! The prices are fair, they have every condiment you could ask for, and Scott & his staff are friendly & welcoming.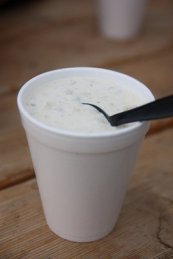 Oh, but the scrumptious goodness doesn't stop with fish & chips!"
You'll also find some of the BEST clam chowder in Ketchikan here as well.
It is one of the chunkiest, yummiest clam chowders I've ever had (and I think MY clam chowder recipe is good!), this one takes the prize. I have yet to meet a person who dislikes the chowder. It's steamy hot, creamy, full to the brim of clams (you won't get an empty spoonful here!), and absolutely scrumptious.
You simply can't go wrong with anything on the menu!
We met Scott, the owner of Alaskan Surf, the first year we worked in Ketchikan and have been friends ever since.
This is one of those places that has a cult-like following - everyone knows and recommends it to anyone who is asking for Fish & Chips or Clam Chowder.
In fact, many passengers on the Cruise Ships will place an order just before getting back on board as it beats the Cruise Ships' Fish & Chips hands down!
And here's the best part! They are conveniently located on the Cruise ship docks near berth #2. You can't miss them, they are just around the corner from the Ketchikan Visitor's Bureau and right across the street from Diamond's International. They are only open during the Cruise Ship season (May - Sept) and are a must not miss during your visit!!
---
Visitors to the Alaskan Surf Fish and Chips Restaurant page may also be interested in the following pages:
Employment in Ketchikan - Types of jobs available in Ketchikan
Totem Poles - Totem Poles located in the Downtown Ketchikan area
Ketchikan Tours & Excursions - The Top Tours & Excursions in Ketchikan