Holland America Cruise Alaska
A classic cruise line for the ultimate Alaska vacation

Perhaps the most regal cruise line in existence, Holland America Cruise Alaska is the best choice for your ultimate Alaska vacation.
Ah, the Dam ships! (Holland America Line's ships all end in 'dam' - Amsterdam, Ryndam, Statendam, Zuiderdam, etc...) Hahaha...
Holland America Line offers you the largest quantity of tour options for a Ketchikan Alaska Cruise as their 7 cruise ships are in port almost 125 times a season! And luckily, every ship makes a stop in Ketchikan!
Holland America Cruise Alaska is know for their classic style of cruising. They were the first cruise line to offer Alaska cruises and have been perfecting the art of Cruising for close to two thousand years!
While Holland America Line's clientele is typically wealthy and conservative, they are working hard to encourage a younger crowd by offering features that are most requested on cruises - internet access, 'As you Wish' dining, and more.
Cruise Ships at all 4 Berths in Ketchikan Alaska
They have a whopping nine options for 7, 10 or 14 day cruises available leaving from Seattle, WA, Vancouver, BC, or Seward, AK:








The 7 day Holland America Roundtrip Vancouver Itinerary Map






Whew! I know it's a lot to digest! With 7 cruise ships travelling in Alaska, Holland America Cruise Alaska gives you the most options to choose from.
While each Holland America Cruise Alaska Ship has a unique theme, they are all colorful and feature a substantial art collection onboard. Be sure to take a self-guided iPod tour, available at the concierge desk.
Children are welcome aboard and there are kids clubs available. However, unlike the Disney Cruise Line's Kids club, Holland America Line divides the kids up by age groups. The three age groups are 3 to 7, 8 to 12 and 13 to 17.
For great ways to save money during your cruise, check out the
Ultimate Cruise Discount Guide! You'll be amazed at all of the ways to save on your Holland America Cruise Alaska!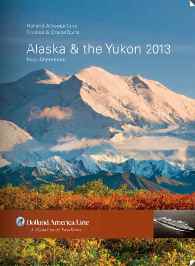 Prices for a 7 day Holland America Cruise Alaska begin at around $700/person and go up depending on the type of room requested.
Don't forget to check the Specials page! And, as always, sign up for their newsletter, which alerts you to last minute deals, newsletter-only specials, & more!
When you sign up for the newsletter, you are introduced to a Personal Cruise Consultant team that can assist you in finding the best tour for your family.
You can book your cruise online, call 1-877-932-4259 for Holland America's travel professionals, or your travel agent.
Click here to view Holland America's Alaska eBrochure.
Holland American also has Cruisetours available which are a combination of cruise and land tour. Explore Denali and Glacier Bay National Parks, Alaska's Arctic and Canada's Yukon Territory, remote lodges, frontier towns, gold rush attractions, and inspiring wilderness via Motorcoach & Railroad.
---
Visitors to the Holland America Cruise Alaska page may also be interested in the following pages:
Alaska Cruise Ship Calendars - Location and number of Cruise Ships in town
Alaska Cruises from Seattle - Cruise Ships departing Seattle for Alaska
Ketchikan Weather - What to expect during your visit!