Disney Alaska Cruise
An unforgettable Alaska family cruise awaits!
New in 2011, take a 7 Night Disney Alaska Cruise and relax! Relax knowing the kids are having the time of their lives with their favorite Disney characters. But a Disney Cruise isn't just for kids! My husband and I LOVED our recent Disney Cruise - without kids!
Enjoy, really enjoy, some alone time taking in the breathtaking scenery of the Inside Passage knowing your kids are happy, safe, & well cared for playing with new friends, new games, & enjoying new experiences of their own! In fact, the most difficult thing on the entire Alaska family cruise may very well be getting them to leave!
Disney Cruise Line is known for their family vacations making special accommodations for both parents and children and often feature costumed Disney Characters roaming the ships.
One of the best features of a Disney Alaskan Cruise is that unlike all other cruise lines, they allow kids to play together regardless of age. That way siblings can play together if they wish! This feature alone demonstrates Disney's commitment to providing the best family vacation options.
And the kids get to choose which activities interest them the most. Although activities are suggested, you & your child make the decision in what they participate in. And with over 100 activities including the Piston Cup Challenge, So you want to be a Pirate, Ratatouille Cooking School, and more your child will have the time of their lives!
After all, a Disney Alaska Cruise is the
Happiest Place on the Water!
Doesn't that sound nice?! Ahhh....I can feel the stress melting away already. :-)
But don't think for one moment that a Disney Alaska Cruise is only for kids & families! My husband and I recently took a Disney Cruise, and being DINKS (Double Income, No Kids), we were worried that we would be overrun by little ones. It couldn't have been more opposite! There were simply so much for the kids to do to keep them busy, we didn't see much of them unless at dinner or at the shows.
And the Cruise was one of the best ones we have ever been on. Everything was perfect! The food, entertainment, shore excursions, cast members (employees!), ship, activities - it was one of those cruises that we were ready to book our next trip before even leaving the ship!
There were plenty of Adult-Only places that we staked out before departing, only to find we didn't need them since the kids were kept so busy!
Disney Alaska Cruise Itinerary
The Disney Wonder cruise ship has a 7 Day family cruise to Alaska leaving from Vancouver, BC.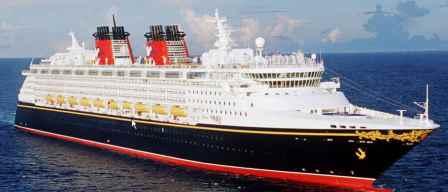 The Disney Wonder on a Disney Alaska Cruise
The 7 Night Alaskan Cruise leaves & returns to Vancouver, BC (as of 2013) and makes stops in Juneau, Ketchikan, Skagway, Victoria, B.C., & Tracy Arm. The cruises begin and end on a Monday. The itinerary looks like this:
Monday: Vancouver, BC
Tuesday: At Sea
Wednesday: Tracy Arm
Thursday: Skagway
Friday: Juneau
Saturday: Ketchikan
Sunday: At Sea
Monday: Vancouver, BC
And If 7 days is just is not long enough, Disney also offers pre & post cruise hotel packages to extend your family cruise to Alaska. With 3 magnificent hotels in Vancouver to choose from and 1 hotel & tour package, your options are many!
For great ways to save money during your cruise, check out the
Ultimate Cruise Discount Guide! You'll be amazed at all of the ways to save on your Alaska Family Cruise!
Prices begin at around $1,000/person for a 7 day Disney Alaska Cruise and go up from there.
Check out their ebrochure or take a few minutes to browse their fantastic videos & podcasts.
As always, be sure to check out their Specials Page, and sign up for their newsletter for members only special fares. You can book online, call 1-800-951-3532 or contact a travel agent that specializes in a Disney Alaska Cruise as they will help you choose your stateroom, find the best deal, and plan the ultimate Disney Cruise to Alaska experience.
Also check out this great video discussing the many stops on a Disney Cruise to Alaska:
---
Visitors to the Disney Alaska Cruise page may also be interested in the following pages:
Alaska Cruise Ship Calendars - Location and number of Cruise Ships in town
Alaska Cruises from Seattle - Cruise Ships departing Seattle for Alaska
Ketchikan Weather - What to expect during your visit!