Why Choose Ketchikan Alaska
Bed and Breakfasts?
Although there are plenty of lodging options, Ketchikan Alaska Bed and Breakfasts are a top pick for several reasons! Travelers seem to choose large hotel-chain accommodations but so much of the time are disappointed as it has nothing to offer other than a place to rest their head and maybe a continental breakfast. Now, consider this! Often, a bed and breakfast costs little more than the local chain hotels, with the added bonus of a delicious home-cooked breakfast, lovely surroundings, and incredible hosts who share their Alaskan way of life with you. What could be better?!
Outstanding Ketchikan Alaska Bed and Breakfasts
Travel Planning Tip:
When choosing accommodations, make sure to ask about...

- Proximity to downtown or public transportation

- Amenities & Decor

- Are children or pets welcome? Non-smoking?

- Is the bathroom shared?

- What meals are included?

- Minimum Stay requirement?
There are many Bed and Breakfasts and Vacation Rentals to choose from, each offering a unique experience on our island. Whether you are looking at a place close to downtown, one with ocean-views, luxury rooms with all the bells and whistles, quiet & quaint cabins outside of town, or simply a house to rent.
Despite being on an island, many of the Ketchikan Alaska Bed and Breakfasts have all the luxuries of home (satellite TV, wireless Internet access, fireplace, kitchen amenities, BBQ facilities) and some offer surprising touches you may not have expected (Hot tubs, spa services, fishing charters, reservation services).
My husband and I have stayed in several B&B's but by far the best ones have been in Alaska. Our experiences have been warm, gracious hosts who are happy to tell you all about the area, their occupations, and life in general! One specific B&B we stayed at on Prince of Wales Island I learned so much from the husband who was in the timber industry - fascinating information that I pass on to others often!
Browse through the Ketchikan Alaska Bed and Breakfasts and Ketchikan Vacation Rentals below and find the one that fits your vacation!
Ketchikan Alaska Bed and Breakfasts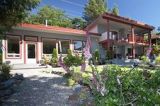 Black Bear Inn 5528 North Tongass Highway
Ketchikan's Luxury Waterfront Bed & Breakfast and Vacation Rental. Elegant waterfront B&B built for guests who want privacy and expect the finest furnishings and amenities. Rent one room, the whole house or the one bedroom luxury apartment.
Check out Reviews on the Black Bear Inn here
---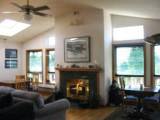 Alderhouse Bed and Breakfast 420 Alder Street
Located close to the Ferry Terminal with gorgeous views of the Tongass Narrows, the Alderhouse Bed & Breakfast offers 3 private rooms each double occupancy, not suitable for children under 12. A seasonal B&B - available May - September with scrumptious breakfasts & a gorgeous home.
Check out more Reviews on the Alderhouse Bed and breakfast here
---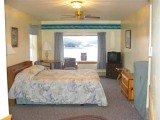 Captains Quarters Bed and Breakfast 325 Lund Street
Located in a historic hillside neighborhood within walking distance of beautiful downtown Ketchikan, this Ketchikan Alaska Bed and Breakfasts offers 3 private rooms, not suitable for children or pets.
---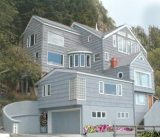 Eagle Heights Bed and Breakfast 1626 Walter Street
Located about half way between the Ferry Terminal and downtown Ketchikan in a historic hillside community, this Ketchikan Alaska Bed and Breakfasts offers gorgeous views of the Tongass Narrows. With large windows in the suites, sit & watch the world (and Cruise Ships, Float Planes, and fishing vessels!) go by. A year-round B&B with lots of amenities!
---
---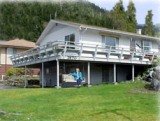 Corner Bed and Breakfast 3870 Evergreen Ave
Located right around the corner from my absolute favorite hiking trail to Carlanna Lake and only 1/2 mile from the Ferry Terminal, this year-round B&B offers a ground-floor suite complete with full kitchen. With all the amenities of home plus 'Alaska sized biscuits' - don't miss it!
Check out more Corner Bed and Breakfast Reviews here
---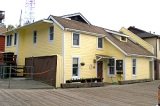 Thomas Street Bed and Breakfast 158 Thomas Street
Conveniently located right in Thomas Basin Harbor, this couldn't be closer to the downtown attractions! Your choice of a one bedroom apartment with kitchen or one bedroom suite with a kitchenette.
Check out Thomas Street Bed and Breakfast Reviews here
---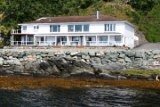 Anchor Inn by the Sea 4672 South Tongass Hwy
Located a couple miles South of Downtown Ketchikan, the Anchor Inn has unobstructed ocean views as it sits yards from the ocean. Features three large apartment-sized suites and one smaller room, all with private bathrooms. Bring your fishing pole & camera and walk a short distance to one of the best shoreline fishing spots as well as eagle hangouts!
---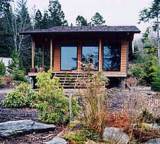 Edgewater Bed & Breakfast 11195 North Tongass Highway
Also found on the North end of the Island, about 20 minutes from downtown Ketchikan, the Edgewater Bed & Breakfast is a one-bedroom cabin with accommodations for four. It is perfect not only for those wishing to get off the beaten path but also a fishing vacation!
---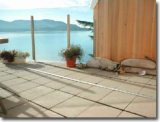 Waypoint Inn at Herring Bay Bed and Breakfast
7866 South Tongass Highway
Two locations to choose from, one at Herring Cove and two others available in downtown Ketchikan. (907) 225-8605
---
Blind Squirrel Bed and Breakfast 310 N. Point Higgins
Located on the North End of the island, about 25 minutes from downtown Ketchikan. A gorgeous one bedroom apartment in a country setting, perfect for couples. (907) 225-2585
---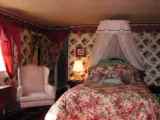 Madame's Manor Victorian Bed & Breakfast 324 Cedar St.
Located in the heart of downtown Ketchikan above the world famous tunnel. Exquisitely decorated with Victorian antiques, this one-bedroom suite features a kitchenette & private bath.
---
Sea Otter Bed & Breakfast 14505 N Tongass Hwy
Sea Otter is friendly, private, quiet and comfortable with outfitted kitchen, large parking area, hot tub, satellite TV, and ability to accommodate large parties and close to marinas. (907) 247-7750
---
---
Visitors to the Ketchikan Alaska Bed and Breakfasts page may also be interested in the following pages:
Ketchikan Travel - Ways to get in & around Ketchikan
Ketchikan Webcam - Live photos of the Ketchikan Area
Alaska Packing List - What to bring on your visit!