Snorkel Alaska? Yep!
One of the Best Places to Snorkel!
Amazing! Spectacular! That's what I said after experiencing the Snorkel Alaska tour in Ketchikan Alaska. I'll admit - I was scared to death that I would be too cold to enjoy anything, but it simply wasn't the case! I have been snorkeling & scuba diving in some gorgeous places but they paled in comparison to the colors, sights, & experience of the snorkeling tour!
A once in a lifetime trip deserves a once in a lifetime adventure!
Living in Ketchikan, I know that a lot of activities revolve around the ocean - kayaking, fishing, boating - and am no stranger to most activities here. But one thing I had never done was to snorkel! The water is too cold, I would say. But year after year, the Snorkel Alaska keeps winning the Princess Cruise Line's Excursion of the year so I had to try it! I walked away with an understanding of why the Mountain Point Snorkeling Adventure is such popular cruise excursions in Ketchikan Alaska!
Things to bring!
* Swimsuit

* Towel

* Hair ties & brush

* Underwater Camera!
Before I get started on the story - let me answer two popular questions:
Wasn't it cold?! - No! We wore 7mm (3/4" thick!) wetsuits that let in just a hint of water that my body heated up and kept me toasty warm. I am naturally a cold person and only began to get chilly at the end of the hour and on the occasional times water seeped in! I was surprised how toasty warm I kept in the chilly water!


What did you see? - LOTS!! A ton of marine life: kelp forests, many different types of sea stars (starfish), sea cucumbers, nudibranchs, jellyfish, eagles, boats, and so much more!! The colors and clarity of the water were spectacular - Snorkel Alaska was so much better than I expected!
Our Snorkel Alaska adventure began at the Cruise Ship dock. We were met by a dock representative and directed to our bus. We boarded an old city bus type transport and travelled through town and out to the gear building, about 4 miles south of downtown Ketchikan.
During the short drive, one of the guides handed us waivers to complete, gave us a safety speech, discussed the equipment we were going to use, how to get our wetsuit on (no easy feat!), & answered any questions we had during the drive to the gear building. We were all so excited!!
Arriving at the Snorkel Alaska gear building, we met our sensational guides who lined us up & selected suits & gear for us. There is a male & female side to the small-ish building, separated by portable walls. Plastic chairs are setup inside to assist you while you get into the suit.
Now getting into a 7mm wetsuit is no small feat, it's a workout all in itself! Fingernails were lost, there were lots of crazy contortions and plenty of laughter on the female side! Any nervousness and modesty about undressing in front of a group of ladies that I had when I stepped into the open room quickly evaporated as I rolled, pulled, shimmied, & finally with the help of the others - zipped up that suit! Oh but don't forget the hood & booties!
Whew! :-)
Once everyone was properly suited up, we were given our masks, snorkels, & fins, and loaded back into the bus for the 1 mile drive to where we would be snorkeling - at Mountain Point. Mountain Point is perfect for snorkeling, with rocks & tide pools filled with marine life and underwater rock walls perfect for free diving.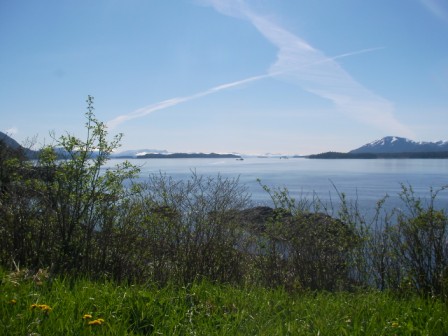 What a view at Mountain Point!
We arrived at the site and took in the breathtaking view before being given our weight belts and starting down a steep, rocky path to where we would get into the water. We were almost giddy by this time, though I wonder if it had to do with the fact we were all getting warm & toasty in our wetsuits!
It was time to get into the water! I'll admit, that first step was a tough one! The anticipation of having the freezing water instantly chill me to the bone....but it never happened! Just like they said, the water slowly seeped into the suit and was instantly warmed up by my body heat and kept me warm. These guys really know what they're talking about!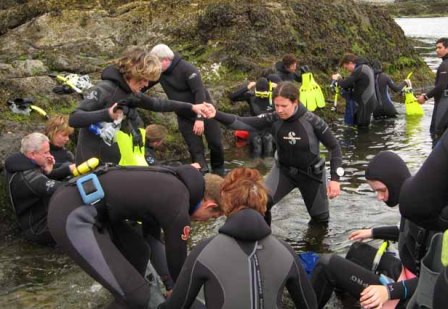 The guides assisted everyone as we put on our flippers and gloves and gently put the rest of our body into the water and floated towards the lead guide. The only shocking moment came for me when the small piece of skin not covered on my upper lip hit the cold water. Brrr! I understand now why we have such thick suits on!
Once the hard part was over (putting on the wetsuit and getting into the water!) the true fun began. So...what did we see?!
It was GORGEOUS!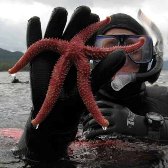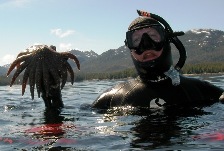 Sea Stars - they were everywhere! The one on the left is a sunflower sea star and is the largest in the world!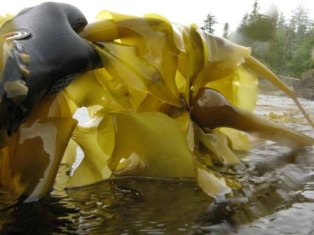 We swam through kelp forests which was out worldly - like navigating through a magical forest.
There were sea cucumbers, urchins, jellyfish, fish, eagles, boats, crabs, & a million things I can't remember the names of. The guides would dive down & pick up some of the interesting items and would pass them around for people to see, which was very cool.

What really struck me was how colorful everything was!
Here's a short video that I took showing the sea urchins, sea stars, and kelp forest - taken with my little waterproof video camera
that I love!


We swam around, following the guides and checking out areas on our own for about an hour before we were encouraged either to continue for 5 more minutes or go on back to shore. I opted for the 5 more minutes even though I was beginning to get cold - I didn't want it to end! I'll admit that my hands & feet were very cold by the time I was out of the water.
Once out of the water, we walked up the hill to the gear truck where there were coolers filled with warm water that we could pour inside our wetsuit, which was heaven! We all warmed up & chatted about the marvelous view & what we had just experienced. What a bonding experience! We even got a little silly for photos - don't ask! Even I can't explain this pose! Perhaps my brain was more frozen than I knew! Haha...
Everyone boarded the bus and was taken back to the Snorkel Alaska gear building where we removed the wetsuits & toweled off and enjoyed some hot cocoa (what a treat!). Our group ranged from those who had never snorkeled before to experts, and young and old alike, yet we all chatted like schoolchildren as we discussed our tour! Everyone agreed that Alaska is definitely one of the best places to snorkel and that Snorkel Alaska is one of the top tourist attractions in Alaska!
Here's another video you will enjoy:
---
Visitors to the Snorkel Alaska Tour page may also be interested in the following pages:
Cruise Ship Calendar - Details of the Cruise Ships in town for the day
Ketchikan Webcam - Check out multiple live views of Ketchikan!
Alaska cruise packing list - What to pack for your trip!