Explore, see, do, & learn more
on an Alaska small ship cruise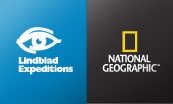 An Alaska small ship cruise allows you to go where other, larger cruise lines can't. The most knowledgeable small ship expedition company is Lindblad Expeditions and National Geographic expeditions. You won't have an itinerary, you will have an adventure!
Travel + Leisure's" World's Best" award
for "Small-Ship Cruise Lines" for the last 4 years!
Lindblad Alaska Cruises are active & involved Alaska small boat cruises. Their small, 62-guest ships can tuck into secluded coves and harbors and view glaciers up close. When there is more to explore, they simply launch small Zodiac boats or kayaks for a more firsthand experience.
Size does matter when talking about an Alaska Small Ship Cruise!
All Lindblad Cruises have more naturalists on board than any other expedition company in Alaska. They love sharing their passions whether it is the rainforests, creatures of the sea, or knowledge of Alaska. This means more knowledge, perspective and personal experience! Their high caliber, expert staff is just as excited to be in Alaska and excited to see wildlife as you!
And as of 2011, a Lindblad Expeditions-National Geographic-certified Photo Instructor is on every cruise. You will have your own photo coach with you on the cruise, allowing you to capture the best images possible! And with their knowledgeable staff that knows both where and when to look for wildlife, you will surely come back with incredible images of your tour. And if you want to leave the photos up to the professionals, a video chronicler is onboard and will make a DVD of your trip.
At the end of each day the passengers & naturalists is an informal recap session of the day where you can share your experiences with everyone & discuss what you enjoyed.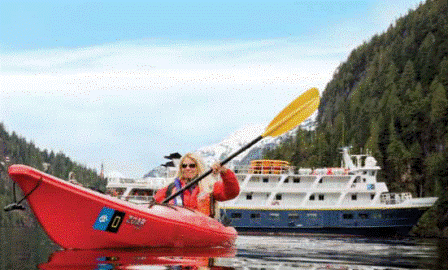 Nothing says Alaska Adventure Cruises more than kayaking around glaciers!
Adventure Meets Comfort
Lindblad Alaska small boat cruises offer more flexibility, choices and activities. You can choose to do as much, or as little, as you wish. They have comfortable cabins, fine cuisine, on board spa treatments, a Wellness Specialist including daily stretch classes, and e-mail service.
Kids-only activities by Naturalists are included and infuse education into the fun. A movie night, scavenger hunts, art activities, and Zodiac rides are also offered.
The Alaska Adventure cruises available: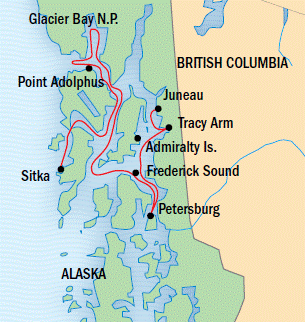 8 Day Exploring Alaska's Coastal Wilderness, roundtrip from Seattle, aboard the National Geographic Sea Bird & Sea Lion. Depart Seattle by air to Juneau where you will begin the cruise. Visit Tracy Arm, Petersburg, Frederick Sound & Chatham Strait, Glacier Bay National Park, Point Adolphus & Inian Pass, and end the cruise in Sitka before catching an afternoon flight back to Seattle.

Prices for an 8 Day/7 Night Cruise to Alaska is from $5,990 to $10,190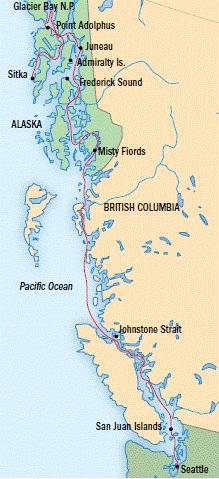 12 Day Alaska and British Columbia Photography Expedition aboard the National Geographic Sea Bird & National Geographic Sea Lion.

Depart Seattle for Sitka, explore Southeast Alaska's Islands, Bays, & Fjords, Glacier Bay National Park, Juneau, Tracy Arm or Endicott Arm, Petersburg/Frederick Sound, Misty Fiords, Inside Passage British Columbia, Alert Bay/Johnstone Strait, & the Gulf Islands, disembarking in Seattle.

Explore historical cities, hike the rainforest on remote islands, kayak the coast, spot wildlife, view glaciers & ice fields, cruise through the majestic Misty Fjords, & explore bays & inlets.

This is my dream cruise. Seriously. I can't think of a better small ship cruise I would rather try! It's just a bummer they don't come to Ketchikan Alaska.

PRICES FROM: $7,690 to $13,180






7 Day/6 Night Denali National Park Optional Pre or Post voyage Extension

Extend your Alaska Small Ship cruise with a land tour! Explore the University of Alaska Fairbanks Museum, wildlife viewing along Denali Park Road, wildlife observation, hikes, canoeing, fishing and biking in Denali National Park, & Alaska Railroad trip to Anchorage. Enjoy luxurious accommodations at the Northface Lodge and downtown Anchorage hotel.


PRICES: $4,980 double occupancy, $7,390 single occupancy.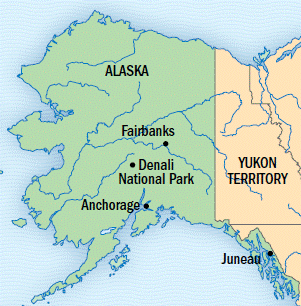 Lindblad Excursions has been cruising the Alaska coast for almost 3 decades. With all of the Cruise Lines going out of business, especially the small ones, this is one Alaska Small Ship cruise that stands out among the rest.
You can make a reservation Alaska Adventure Cruises online, by contacting your travel agent, or by calling 1-800-397-3348. Book by March 31st for special discounts. Group discounts are available as are Children's fares. Also, Check out their online ebrochure.
They also have Special Offers for Spontaneous Travelers, which are updated often. Check them out!
Oh, and one final Alaska small ship cruise money-saving tip - sign up for their Webinar and save $250 per booking just for watching!
---
Visitors to the Alaska Small Ship Cruise page may also be interested in the following pages:
Alaska Cruise Ship Calendars - Location and number of Cruise Ships in town
Alaska Cruises from Seattle - Cruise Ships departing Seattle for Alaska
Ketchikan Weather - What to expect during your visit!