Crystal Cruise Alaska
Luxury cruising, exemplary service,
& outstanding cuisine
Crystal Cruises was a newcomer to Alaska beginning in 2011, and has amazing Crystal Cruise Alaska itineraries to experience! Crystal Cruises is a luxury cruise line with luxurious high end, medium sized ships.
And this niche is unique! This means they can offer the activities & amenities that are normally associated with larger vessels and also offer exquisite dining, exemplary service, and the freedom of choice that is synonymous with a luxury cruise line. As a testimony, they have the most repeat passengers than any other cruise line.

The Crystal Symphony will be cruising Alaskan waters and holds only 940 passengers, ensuring a first-class experience. In 2003, Conde Nast Traveler called the ship "The Best Medium-sized Cruise Ship in the World".
Crystal Cruises offers 3 departures to Alaska:
Starting in late January, depart on an incredible 98 day "Asia Pacific Adventure" aboard the gorgeous Crystal Symphony Cruise Ship. This cruise begins in Auckland, New Zealand and cruises North to Australia, then to Indonesia, Malaysia, Singapore, Thailand, Vietnam, China, Japan, & Russia before reaching Alaska. The ports in Alaska include Dutch Harbor (anyone a Deadliest Catch Fan?), Kodiak, Seward, & Ketchikan. Continuing the cruise through Canada, Washington, Oregon, & finally departing Los Angeles, CA. Whew!





Or take a shorter 18 day "Pacific Panorama" cruise, beginning in early April. Begin the Cruise in Kobe, Japan and visit Russia & Alaska before disembarking in Vancouver, BC, Canada. The ports in Alaska include Dutch Harbor, Kodiak, Seward, & Ketchikan.


Or last but certainly not least - take the 5 day "Pacific Panorama - Crystal Getaway" cruise beginning in late April. This cruise begins in Seward, AK, visits Ketchikan, and departs in Vancouver, BC, Canada.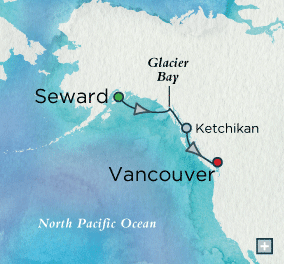 Crystal Cruises 5 Day Alaska Cruise itinerary
For great ways to save money during your cruise, check out the
Ultimate Cruise Discount Guide! You'll be amazed at all of the ways to save on your Celebrity Alaska Cruise!
Crystal Cruises are often 'themed cruises' such as Mind, Body & Spirit, Emerging Artists, Crystal Society, and Crystal Wine & Food Festival. These themed cruises include experts in the field giving lectures & demonstrations.
Children are welcome onboard and Crystal Cruises has the best kids programs available in the luxury market.
Prices for their 5 day Crystal cruise Alaska begin at around $1,470/person and go up from there. **BUT...they often run 2 for 1 specials and offer free roundtrip air and other specials**
Unlike other high-end cruises, Crystal Cruises is not all-inclusive. There is a charge for alcoholic drinks, shore excursions, gratuities, etc. as with most cruises, though they also give a generous onboard credit of up to $2,000/couple per cruise for you to use as you wish.
You can plan your Crystal Cruise to Alaska online, call 1-888-722-0021 to talk to a Cruise specialist and book the cruise, or contact your favorite travel agent.
---
Visitors to the Crystal Cruise Alaska page may also be interested in the following pages:
Alaska Cruise Ship Calendars - Location and number of Cruise Ships in town
Alaska Cruises from Seattle - Cruise Ships departing Seattle for Alaska
Ketchikan Weather - What to expect during your visit!